Nana Rubbishes Ibrahim Mahama Allegation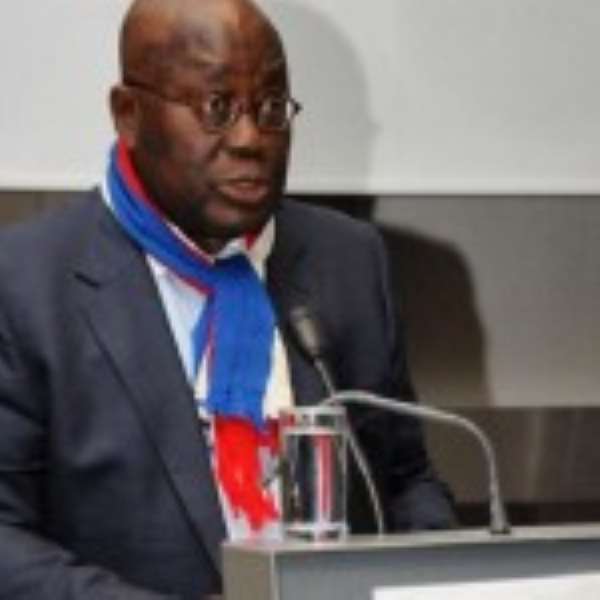 THE 2016 presidential candidate of the New Patriotic Party (NPP), Nana Addo Dankwa Akufo-Addo, has described as false and misleading the publication making the rounds on the social media and some radio stations.
It is being alleged that Ibrahim Mahama, the brother of President John Mahama, had been paying his (Nana Addo's) medical bills.
Nana Akufo-Addo, who left Accra yesterday for Kumasi and Sunyani in the Ashanti and the Brong-Ahafo Regions respectively for the NPP extraordinary national delegates' conference, has therefore appealed to the public to disregard "this false publication."
In the said publication headlined: "Ibrahim Mahama Charges On Okay FM," Mr. Mahama was alleged to have stated in a            20-minute-long interview on the controversial AMERI power deal that "I (Ibrahim Mahama) pay all the monthly medical bills of Akufo-Addo. Why won't they sack him rather?"
It was also claimed in the publication that Mr. Mahama had donated vehicles to the NPP flagbearer and his wife, Rebcca Akufo-Addo.
But Nana Akufo-Addo, in a rejoinder issued by his press secretary, Eugene Arhin, to set the records straight, indicated that "We have painstakingly listened to the audio of the interview granted by Mr. Mahama this morning (Wednesday), and nowhere in the interview did he make these false claims, which are being attributed to him."
The statement stressed that "indeed, nowhere in the 20-minute-long interview did he (Ibrahim Mahama) even mention the name of Nana Akufo-Addo."
Nana pointed out that "for the avoidance of doubt, we want to state that Ibrahim Mahama does not pay Nana Akufo-Addo's medical bills, let alone pay them on a monthly basis."
The statement added, "Mr. Ibrahim Mahama makes no contribution of any sort whatsoever to the Akufo-Addos. Again, Mr. Ibrahim Mahama has not donated any vehicles to the NPP flagbearer or to his wife.
"…Clearly, these diversionary tactics are being employed by the NDC to draw the public's attention away from the numerous corruption scandals, the latest being the AMERI deal, that continue to rock the administration of President Mahama."
Ibrahim Mahama, who claimed that he had received GH¢25 million from the contract awarded to him by the Volta River Authority (VRA) for the civil works on the site for the Ameri gas generators in Takoradi, insisted that the project was not awarded to him by Ameri.
The president's brother indicated that he got the contract on merit, even though he did not indicate whether it went for tender.
BY Melvin Tarlue
[email protected]