SFAN Organises Career Fair For YALI Participants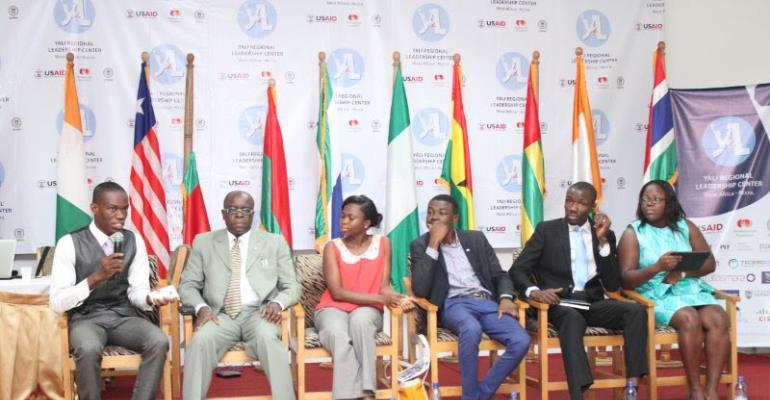 Stars From All Nations (SFAN) organized a special edition of the organization's signature career fair project for the #YALIWestAfrica2015 Cohort 2 participants on Wednesday, December 2nd at Ghana Institute of Management and Public Administration (GIMPA).
According to Tom-Chris Emewulu, Founder of SFAN: 'SFAN started as a campus organisation in Radford University College, Accra Ghana, with the core aim of raising the next generation of African leaders and to bridge the gap between college and career.
Our innovative programs are focused on training and inculcating values within our global leaders. The values we seek to inculcate are of responsive and responsible leadership, enabling our members to be change agents and problem solvers in their communities. We provide an enabling environment for the youth to turn their passion into a career or business.'
The career fair was organized for 105 participants of the YALI regional leadership center from 8 West African countries to create more opportunities for networking between participating firms and the Cohort members as well as to highlight and promote the culture of creating shared prosperity. The meeting was hosted by Tom-Chris Emewulu who is also a participant in the YALI West Africa regional leadership training program.
The panelists include William Senyo, Co-founder of Impact Hub Accra, Sandra Barimah, Head of Schools at British Council, Temitope Amujo, Chairman of Amugold Group and Elizabeth Akowugo, CEO of Leading Ladies. Special Guest at the event is Mr Fonma Usoro, Counsellor, Nigeria High Commission Ghana.
Panelists took turns to share how their various organisations are creating shared value, and how they are making impact in the community. The inspiring session culminated into a special presentation from Katherine Gage, Advisor to the Executive Director, U.S Global Dev Lab. She talked about the Global Entrepreneurship Summit as well as other opportunities for the youth in at from USAID.
Participating companies include: British Council, Vodafone Ghana, One Acre Fund, Women in Tech Africa, CAMFED, Africa 2.0 Foundation, Engine Ghana, Paridox, Growth Mosaic and Centre for CSR, West Africa.
This marks the second edition of Quantum Leap Career Fair as the first edition was held earlier this year in March at the British Council, Ghana.