Betty Mould criticised for 'Ashanti' comment; given 1 week to apologise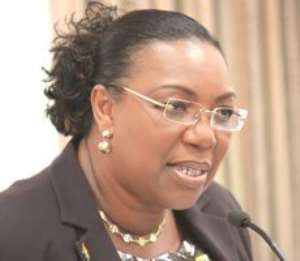 The First Vice Chairman of the governing National Democratic Congress (NDC) has been asked to, without delay, apologise for saying she sometimes regrets being an Ashanti.
A group calling itself Ashanti Youth Association (AYA) says they are disappointed with the former Minister's comments.
Betty Mould Iddrisu while addressing some party supporters in the Ashanti Region is reported to have expressed her disappointment over what she describes as the skewed manner in which the media in the Ashanti region report the achievements of the NDC government.
"Sometimes when I listen to the radio and I hear the things that are said on the radio, I feel pained, I feel pained that I am an Ashanti. I wonder why we can't value what we have. I wonder why we can't acknowledge that in Africa, Ghana is number one and among the top five countries," she said.
In her view, Ghana in the last seven years under the NDC administration has seen an unprecedented achievement in education and educational infrastructure and therefore does not understand why the press in the region is not "objective" in their reportage on the performance of the Mills and Mahama administrations.
But in a swift response, Operations Director for AYA, Nana Oppong says they also feel pained that a person of Mrs Iddrisu's caliber will utter such words.
"She has disgraced Ashantis and we are deeply saddened with what she said. It was completely out of place", he added.
Nana Oppong said the best thing Mrs Mould should have done was to speak to the media in private if she thought they were doing something bad rather than embarrassing everyone else.
He called on Mrs Iddrisu to apologise to the people of Ashanti within a week otherwise they will take her on.
He also cautioned political parties to refrain from making denegrating comments about the tribe, adding "we are also human beings".
However, aide to Madam Betty Mould Iddrisu, Onasis Kobby says the group has taken the former minister's comment out of context.
"I have the tape recording of what she said and I must say that her comment was not what people think.
"She didn't say that to undermine Ashantis but rather said it in a very different way and so I'm surprised that people should take it to a different level" he added.
Story by Ghana | Myjoyonline.com | Naa Sakwaba Akwa | [email protected]