Asanteman Development Forum Chased Betty Mould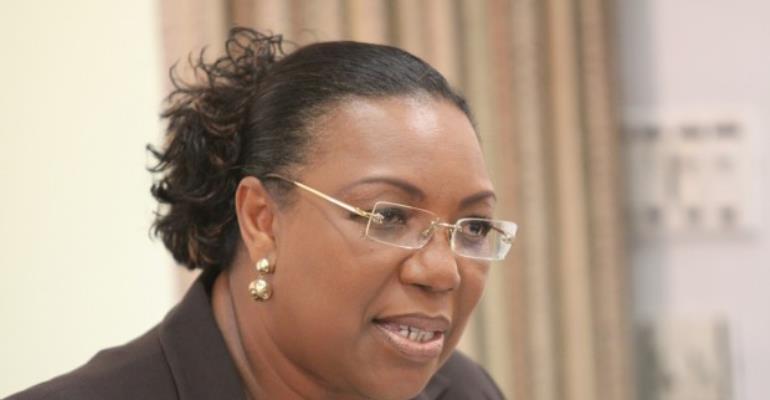 Press Statement Issued By The Asanteman Development Forum (Asdef), On Tuesday 6th October, 2015, In Kumasi
We are very sure that by now Betty Mould Idddrisu, 1st Vice Chair of the ruling National Democratic Congress is still struggling to locate her roots as a Ghanaian. Granted, she can be classified as one; our laws permit that, which is after fulfilling all requirements of the laws on nationality switch. Sadly, she is not a true Ashanti and can never be one in her sorry and miserable political and social life.
Let us remind ourselves of some attributes of an Ashanti: they are fearless, bold, abrasive, wise, smart-thinking people and industrious; they are not meek, corrupt, and selfish, cowards and traitors, and we ask, which of these attributes does Betty Mould Idddrisu posses? Maybe none at all and that makes her an alien and a hardcore imposter parading herself as an Ashanti.
As a woman whose engagements as a politician has over the years brought to us nothing, but undiluted disgrace to the Asante Kingdom, it is not surprising that her loyalty and legitimacy to the Golden stool and for that matter the good people of Asanteman have always been in great doubt even before her recent passive show of careless political bravery.
It is laughable for her to expose herself in an open platform, and gallantly displaying her naked ignorance about her roots, all because of weak and cheap political belongingness.
The former Attorney General and Minister of Justice, who condoned, connived and presided over the fraudulent payment of GH¢51 million to Alfred Woyome from the national kitty has said and we quote in parts: "…I feel pained that I am an Ashanti…I am sad I am an Ashanti."
Madam Betty, if you care to know we are unfazed by your sordid act and we do not wish to have such an ungrateful being like you in this Kingdom because the likes of you (traitors) are seriously abhorred in Asanteman.
We are not shocked because this is a clear and classical manifestation of her association with people who hate anything Ashanti. What Madam Iddrisu has just done only reinforces the long hatred that the NDC has always harbored for the people of Ashanti.
As she has been bold enough to openly express her hate about her own tribe due to her allegiance to the NDC, she should be bold also and renounce her Ashanti bloodline; that is if she is one indeed.
Mark this; such irresponsible, shambolic, childish and premeditated remarks are not going to be the last from the likes of her and we are ready for anything from such persons.
Denying your own roots for political expediency is not just treacherous, it is diabolical and a mark of tribal-assassination and if she cares to know, Asanteman is equally ashamed of her infantile, reckless and blasphemous action as well as of her roots and identity as an Ashanti.
We have said this and we hereby repeat that the Kingdom of Ashanti and its people have always weathered any storm since the days of the British and through other political schemes geared towards suppressing and clipping the wings of the Kingdom. The Kingdom and its subjects shall forever remain ever vibrant, industrious, relevant, dynamic and undaunted.
Our forefathers use to say "that no one uses his left hand to give directions to his father's hut", and we dare to say Madam Betty Mould has done the exact opposite. She is telling us that she cherishes her party more than her bloodline. What insolence.
Madam Betty, this your infamous style to rise to stardom has failed already. But let us give you what can be a sure way to your stardom: tell your NDC government that they have practically failed Ghanaians. Let them know they are incompetent and nothing has worked well under their regime. You should tell them they are clueless, lawless, hypocrites and misfits in the management of the affairs of this country.
Madam Betty, please tell your NDC that they are killing businesses of the people of Kumasi; that their incompetence had led to the collapse of industries in the country and workers are being laid off. Again tell them they are killing the economy of the Ashanti region due to their deliberate relocation of traders in Kumasi. And tell your ruling NDC to invest their energies engaging in a deep thinking exercise that could bring forth some novel solutions to our teething problems and stop thinking about us because we will forever remain undaunted, unwavering and united against all storms, including yours.
LONG LIVE ASANTEMAN,
LONG LIVE THE KING, AND
LONG LIVE GHANA
Singed:
Secretary
Gabriel Amoah
Tel: 0244484464
Richard Asante
Organizer
0244812075/0503657198