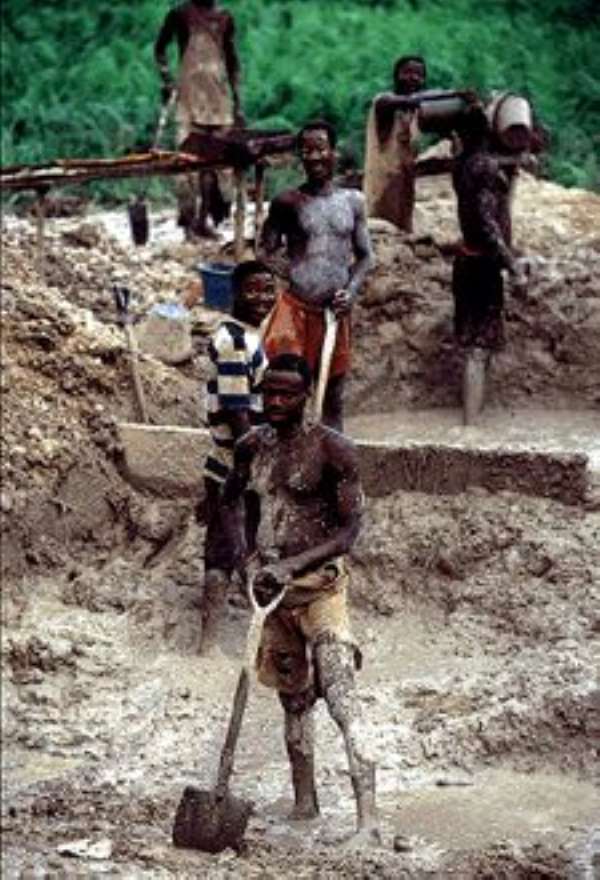 `Galamsey' gold scavengers bring mercury pollution Miners say they must steal nuggets to feed families
Tarkwa, Ghana—Deep in the lush forests that cover Ghana's lucrative goldfields, 19-year-old Nana Yaw squeezes a drop of metallic mercury onto his hand before rubbing it into a nugget of gold plucked illegally from land belonging to an Australian mining company.
Around him, a maze of tunnels and trenches snakes through the slope leading to a slow-moving stream. A rickety conveyor belt, run by an ancient generator spewing oil, shakes the rich, red dirt to reveal particles of gold. The mercury binds with the gold to separate it from the soil's strong grip.
Working surreptitiously and illegally in Ghana's goldfields, "galamsey" miners — as the traditional, small-scale operators are called in the local Twi dialect — say stealing bits of raw gold is their only way to feed their families.
But environmental experts say their activities are more devastating than the large-scale mining concessions they scavenge.
"They go anywhere, any time, on companies' concessions or outside government lands, anywhere they feel there is a gold deposit," says Ransford Sekyi, a senior program officer and mining engineer with Ghana's Environmental Protection Agency.
"They are illegal operators and they are armed, very violent and they don't obey any rules. They use chemicals like mercury indiscriminately. They indiscriminately mine. They mine in river bodies, in streams. I mean, anywhere."
Steps from the impoverished village of Badukrom — an hour's drive from Tarkwa, a dirty, chaotic mining town about 300 kilometres west of Accra, Ghana's capital — Yaw and his fellow galamsey miners have dug a series of intricate and precarious tunnels on land that belongs to the Ghana Australia Goldfields.
As miners search for gold day and night, rivulets of wastewater slick with oil and laced with toxic mercury flow straight into the stream that provides Badukrom's drinking water.
Yaw says he knows mercury can cause skin cancer and the other deadly ailments later in life, but he just shrugs.
"The water has been polluted already," he says. "Even the mining people, when they blast, the dust comes here."
World Bank figures suggest there are about 1.5 million illegal miners scratching out a living in gold and diamond fields across sub-Saharan Africa.
In Ghana, known as West Africa's "Gold Coast" for its fabled caches of ore, galamsey operations are thought to provide 10,000 to 15,000 jobs for miners who can dig out more than 100,000 ounces of gold in a year, most of which is sold on the black market.
Standoffs between large-scale mining companies and galamsey miners have pushed the illegal operations farther and farther into Ghana's forest reserves, threatening habitats of rare species such as the Red River hog, roan antelope and red and black Colobus monkeys.
Sekyi points to areas in Ghana's western region, where veins thought to be 10 times more valuable than the California gold deposits run beneath desolate villages of mud huts and malnourished children.
Galamsey miners have dug into riverbeds, redirecting the flow of the water and in some cases, stopping it altogether, he explains.
"If that thing continues for five or six more years, we will lose the water bodies in the area," Sekyi says.
Although small-scale and illegally mining has gone on since before colonial times, Ghana first opened its profitable gold and diamond fields to foreign investors in 1986, as the country struggled for stability after two bloody coups.
Loans from the International Monetary Fund were tied to Ghana's willingness to attract mining multinationals, which were seen as one of the best ways to lure development dollars.
Today, at least 20 medium- and large-scale mining companies dot the landscape of Ghana's western and northern regions. According to the Canadian anti-mining lobby group MineWatch, mining has destroyed roughly 80 per cent of the country's forests and pushed farmers from their land.
Like many children among Badukrom's 1,600 villagers, 3-year-old Nana Aba Buckman and her 2-year-old sister, Rose, both have itchy sores on their arms, legs and bellies. It's a rash their mother, Adwoa Dede, blames on polluted drinking water.
While the EPA acknowledges that water in parts of the region isn't suitable for drinking, neither Ghana Australia nor the illegal miners take responsibility for Badukrom's water problems.
Between 2000 and 2003, the EPA found that blood, urine, hair and nail samples provided by galamsey miners, as well as some of their wives and children, contained dangerously high levels of mercury.
Mercury had also found its way into the surrounding water supply, the vegetables grown at nearby farms, even into the atmosphere.
"All of them had reasonable pollution levels" from illegal mining, Sekyi says.
"Their actions are a cause of great concern to us."
Wherever the EPA finds mercury in its water tests, he adds, it's clear that galamsey miners have been in the area because large-scale miners stopped using mercury about 50 years ago.
Large-scale miners use cyanide, he explains, and there are strict regulations around how that chemical is used and contained, although he acknowledges that there have been a series of high-profile spills in the past, some requiring the move of entire communities.
Edward Badu, who leads a gang of 35 illegal miners on a patch of mined land near the mining town of Prestea, says people would give up the tedious, dangerous work if the government provided alternative employment that was more fulfilling.
Adds a miner who identifies himself only as Ahmed: "There is no job here to sustain us. Had it not been for this galamsey job, we would be useless armed robbers and engage in social vices."
Yunus Saeed, 24, who began mining illegally eight months ago to raise money for his Islamic education, says he's worried about his safety.
"It is risky; you can die," he says. "Some people have died here."
Some illegal miners boast of making 3.3 million cedis in a year — about $480, in an area where the average yearly income is about $365.
Sekyi figures galamsey miners could band together and buy a mining permit for about $130 each year, allowing them to register with the government and have access to technology and advice that could improve their operations.
"There's no way they can say they don't have the money," says Sekyi." I think it's an attitude."
Registering also would force the small-scale miners to provide an environmental assessment plan, take responsibility for any environmental degradation and follow rules devised to minimize environmental impacts.
But illegal miner Musah Abdulai says that won't happen.
"Even if the government establishes an alternative livelihood, they will not quit mining," he says. "We should be seen as miners. Even if we got to the farm, we cannot farm because we are not agriculturalists.
"There is no way we will stop mining here if the government brought a job for us. We are born here in the gold; it is our main job. It is our forefathers who started the mining."
-------------------------------------------------------------------------------- Karen Palmer and Sheilla Sackey are volunteers with Journalists for Human Rights in Ghana.