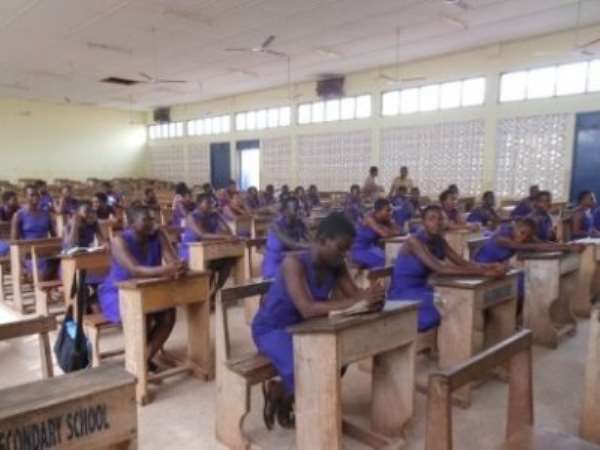 It is heart breaking when one sits down to analyze the performance of Senior High School candidates in the West African Senior School Certificate Examinations (WASSCE) of late. It becomes very difficult to decipher whether we are progressing or retrogressing as a country in our educational sector. In Ghana WASSCE serves as the link for senior high school graduates to enter or get admission into tertiary institutions. Without taking the WAEC certification examinations one will not be able to progress into any tertiary institution.
Statistics from the just released WASSCE 2015 results points to the fact that students performed abysmally especially in the three core subjects that is mathematics, English and science. These subjects serves as the basis that many tertiary institutions consider for admission. Students performing woefully in these subjects is a clear indication that few students will be able to progress to the next stage of their academic ladder without having to rewrite. The statistics as released by WAEC indicates that 25.29 % of candidates passed in mathematics. That is students getting A1 to C6. Since many schools today do not accept D7 for admission. 23.63% passed in integrated science (A1-C6) and 50.29 % passed in English (A1-C6).
It has been a headache to stakeholders in the educational sector tracing the causes of these poor performances. It even becomes more difficult to attempt putting the blame on either teachers or the students. But when subjected to critical analysis it becomes obvious that the blame should be shared.
Are the teachers found in our various schools up to the standards to teach these subjects? (Math's, English and science). Are the institutions that train these teachers producing the right caliber of teachers that are capable of handling these subjects very well? These are big questions that needs to be answered. I was shocked when I listened to the confession of an English lecturer from the University of Ghana on Radio Ghana's current affairs program 'Behind the News' on the 11th of August, 2015. He never minced words, he stated categorically that just a handful of English graduates from our various University are up to the task of teaching English as a subject yet we find many of these 'so called graduates' who lack in-depth knowledge of the technicalities involved in the language teaching English in our senior high schools. Same applies to core mathematics as well as integrated science.
Aside most teachers not been up to the task, students are also to blame for their poor performance. In today's Ghana students have developed so much trust in 'apo' that they hardly take the pain to sit down to study. They rather prefer to pay heavy sums of monies for 'apo' which most at times turns to fail them. Many of these ill prepared students turn to cheat in the examination hall. It is therefore not surprising that 453 students had their entire results cancelled with eight (8) of them been barred from taking any exams organized by WAEC for the next two years. Whilst 119 schools have their results withheld and are been investigated for malpractices of various forms.
Don't you also think the syllabus for Senior High Schools need to re- looked at? Could it be that these syllabus are too loaded for the short period of time that students have to prepare for this examination? I put these questions to our stakeholders. Something needs to be done to salvage this situation. Records have shown that it is easier for students to pass these three core subjects whilst in school as compared to rewriting "Nov Dec".
Education is the key to the development of every nation. This is the very reason why our educational foundations need to be well set. This will go a long way to help train the human resources needed to work in the various sectors of the economy to aid development. A country that has its educational priorities misplaced is heading towards doom.
Pius Doozie
[email protected]