Don´t vote 'Skirt & Blouse' - Esseku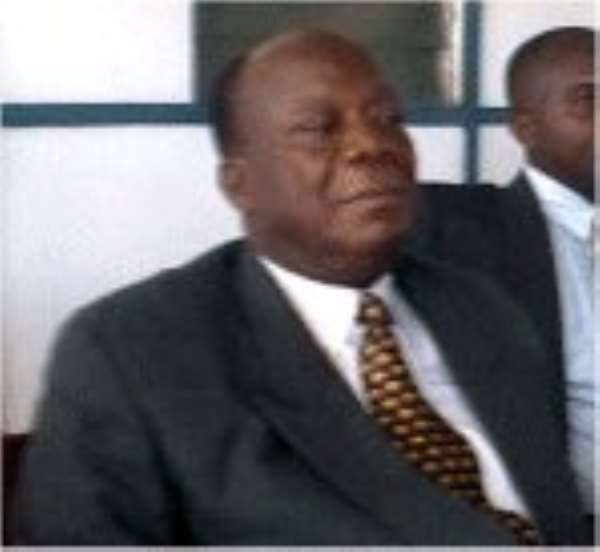 President John Agyekum last Saturday prayed for "God's guidance and direction for all of us in this dear land of ours, not only for our own party members but also for the CPP, NDC, PNC, GCPP, EGLE, NRP and all the others" The President was speaking at the NPP Delegates Conference in Kumasi. It was a charged atmosphere with one major expectation: Who the running mate for the president would be. Though it was generally expected that Vice President Aliu Mahama would be retained, speculations were rife that the president may nominate someone else.
And so when he announced in his speech that "I present to you my running mate for Campaign 2004, and the next Vice President of Ghana, your own Vice President, Alhaji Aliu Mahama", the Prempeh Assembly Hall was shaken to its foundations by the thunderous applause and ovation.
It was one major issue that was threatening to "disturb" the party and the president had put it to rest in an elegant fashion. It was also a great sigh of relief for the party as any change in the line up would have sent certain signals that could have cost the party the elections.
The President said of his running mate, "He is a hard working and affable pillar of support for me; he has shown considerable grace under fire." The delegates accepted these words with joy and the nomination passed with acclamation.
President Kufuor said the conference was a suitable time to extend a hand of reconciliation and friendship to all because during the past four hectic years, some mistakes had been made and very likely some toes stepped upon.
"I reach out today to all who may have been wronged and ask for forgiveness. Let us all rally together at this time, as we recognised that our common cause of uplifting Ghana is greater than anyone of us. I also want to thank all members of our party for their support through these difficult years.
I thank especially that core group, the ever faithful and strong traditionalists of the Danquah-Busia family for continuing to be the anchor of the party. Writers of our history will never forget their endurance, courage and sacrifice."
President Kufuor used the occasion to extend a hand of partnership to the other parties "because we are moving with a vision that is not partisan - a vision that will propel our country into greatness and prosperity for all."
On the forthcoming elections, he asked Ghanaians to "hold ourselves individually and collectively responsible" for their peaceful outcome. To members of his party, he said "today we are attending a conference on the eve of victory 2004. Victory we are working for, victory that we deserve and a victory that will surely be ours".
He charged the party faithful to "go back to Ghanaians with the message that the Positive Change Kufuor promised is here and that it is real. Go to the people of Ghana and ask them to send Kufuor and his Party back to lead Ghana into its destiny of Freedom, Justice, Peace and Prosperity for all".
Vice President Mahama in his acceptance speech said "With humility and gratitude I accept your nomination as the running mate and the next Vice President of Ghana".
He said about four years ago he was chosen by President Kufuor as the running mate to seek the mandate of the good people of Ghana to bring Positive Change, vibrant economy, better health care, social services and greater job opportunities to Ghanaians.
Vice President Mahama said with responsible leadership and good governance under President Kufuor, "We have delivered our promises and Ghanaians are greatly impressed by the humility, wisdom, vision and profound understanding with which we have tackled major issues of our country".
He said President Kufuor had shown exemplary leadership by not being arrogant, cynical and aggressive, Ghanaians should therefore give President Kufuor and the NPP another four more years to continue to care for the poor masses and vulnerable in society.
"Join me to pledge to make the campaign all that we have to make President Kufuor, President for the next four years The elephant is battle ready, it would not be an easy fight, take the campaign to all parts of the country for a convincing victory in December 2004."
It would have been very surprising and self-deceiving if the issue of the primaries had not cropped up. Mr Harona Esseku, National Chairman of the party in his address said the national executive committee had taken note of the difficulties and problems encountered during the primaries and would address them in future.
This is very important for the party because in certain constituencies the primaries had so divided the electorate that some people had threatened not to vote at all in the elections. With this fear in mind, Mr Esseku appealed to the members, supporters and sympathizers who've had problems with the primaries to put them behind them and refrain from "the skirt and blouse" threat.
This phrase was coined by some aggrieved individuals during the primaries who threatened voting for President Kufuor and any parliamentary candidate of their choice and not necessarily the party's choice.
"Your vote should be for the Party but not any individual, anyone who votes 'skirt and blouse' would stab the party in the heart to kill it…Let us vote massively for convincing victory in the first round. Let us all pledge to work for one round during the election".
This congress now paves the way for the presentation of the manifesto and campaign towards the elections.
There were fraternal messages from the National Democratic Congress (NDC) delivered by Mr Baba Jamal, Deputy General Secretary and Mr Ludwig Hlodze, Special Assistant to the NDC flag bearer who presented a copy of the NDC manifesto "Better Ghana" to President Kufuor.
Mr Mike Eghan, Second National Vice-Chairman of the Convention People's Party (CPP) delivered the Party's message while Mr John Ndebugre; First Vice-Chairman of the People's National Convention (PNC) delivered their message.