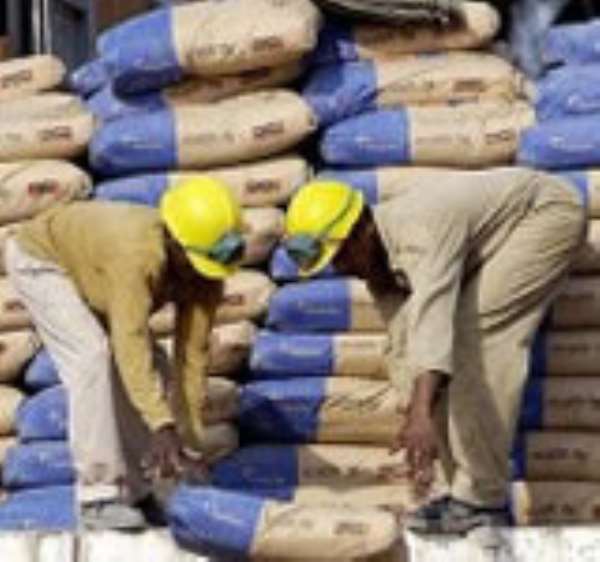 The Ghana Cement Manufacturers Association (GCMA), which comprises GHACEM Limited, Diamond Cement Company Limited and Savannah Diamond Company Limited, has appealed to the Ministry of Finance to urgently commence investigation into what it described as the tax liabilities of certain importers of bagged cement into the country.
In a letter dated May 26, 2015 and addressed to the Director of Taxes at the Finance Ministry, GCMA said that it had gathered that two importers—SOL Ghana Limited and Fujiman Sentuo—allegedly declared CIF values of about $27.00 per ton and $30.00 per ton respectively.
The letter, jointly signed by Dr George Dawson-Ahmoah, Chairman and N. Venketash, Vice Chairman/Secretary, stated: 'The alleged values to us as seasoned manufacturers in the cement industry are so unbelievable and call for the attention of the tax authorities. Such values, when confirmed, are under-valued leading to huge financial loss to the nation.
Meanwhile, a clearing agent for SOL Cement has defended the import of the commodity into the country.
Nana Obokomatta IX, in a reaction to an earlier story about a call for the ban on cement imports, said but for such activities the prices of the commodity would have skyrocketed.
'The cement we import from China has been rated by the Ghana Standards Board as good and so it is not true that its quality falls below the locally produced ones,' he said.
Nana Obokomatta IX stated that SOL Cement International has contributed immensely towards the meeting of the target of the Customs Division of the Ghana Revenue Agency (GRA).
'But for the payment of our obligation, the Customs Division would have been unable to meet its collection target,' he said.
The clearing agent said in 2014 SOL paid an amount of GH¢18,241,869.60 in duty to the Customs Division, a massive improvement over the payment of GH¢4,650,633.06.
It cannot be true, therefore, that cement importers evade the payment of taxes as being speculated. It is not possible under the circumstances to evade such payments as imports arrive through the shipping lines which record the actual tonnage. The Ghana Ports and Harbours Authority, which operates like a private company, charges $15 per ton for the stevedoring services it provides.
'There is no way they would allow you to reduce the quantity of cement imported.'
Banning the import of cement, he said, would worsen the supply of the commodity on the market, especially with the country suffering an energy crisis.
SOL has paid over GH¢30 million to the Customs Division of GRA.
Some 41,500 tonnes of cement, he said, are currently awaiting clearing formalities at the port, from which a respectable amount of money would be generated for government.
His reaction was triggered by an earlier story about an outcry by Local Producing Companies (LPC) regarding the effect of what according to them are the suffocating effects of cement imports.
By A.R. Gomda