After Somalia's famine, hunger persists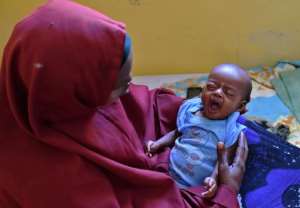 Ubah Mohamed Ali, 30, holds her 3 month old son Mohamed who is suffering from pneumonia, at the SAACID stabilization centre in Mogadishu. By Carl de Souza (AFP)
Mogadishu (AFP) - At a hospital in Mogadishu's Yaqshid district, children suffering from severe acute malnutrition, worsened by stomach and chest infections, are receiving treatment that is likely saving their young lives.
Three years have elapsed since famine killed more than a quarter of a million people in Somalia –- more than half of them children –- yet for many of the country's poorest and most vulnerable people the hunger has not gone away.
Seven-month-old Zakaria was admitted to the specialised clinic with severe acute malnutrition and a respiratory tract infection.
After six days of being fed fortified milk and antibiotics, his tiny body still appeared emaciated and listless but his mother, Baarlin Hassan Nuur, 30, said he was much improved.
"When I brought my son here he was very sick and vulnerable, but he is recovering now and looking better," said Nuur, a street vendor and market trader. She moved to Mogadishu from the town of Balad, some 30 kilometres (20 miles) to the north, when seasonal drought dried up her father's farm.
Others in the ward ranged from a five-week-old baby girl to a three-year-old. One child had developed tuberculosis while another contracted a stomach disease when he was fed cow's milk after refusing to breastfeed.
With scarce resources, nutrition expert Yusuf Sheikh Abdi struggles to run the clinic for local non-governmental organisation SAACID, whose name means "to help" in Somali.
"Feeding must go together with antibiotics to treat diseases. You cannot reach the desired treatment without antibiotics," he said after pointing out the empty shelves and cabinets in the centre's pharmacy.
In the corner of the room were the last of the supplies: a small stack of fortified milk powder and "Plumpy Nut" peanut paste, a special food designed to fatten starving children.
"We will have to stop admissions in the next few days," Abdi said. Only three weeks ago a child at Abdi's facility died of a combination of malnutrition and disease.
In 2011 and 2012 a famine caused by conflict and drought killed nearly five percent of Somalia's population and 10 percent of its children. At the time, Abdi was working in Middle Shabelle, one of the regions south of Mogadishu hit by famine.
"At that time malnutrition was high, high. Now it is reduced, but only somewhat. For many it still exists," he said.
There are currently 203,000 acutely malnourished children in Somalia, according to a recent UN assessment.
Of these, 38,000 need the kind of life-saving treatment that is provided at the centre in Yaqshid. This figure is a seven percent decrease on last year, marking a slight improvement.
- 'Building resilience' -
The vast majority of the worst affected are those who were uprooted by the famine and, three years on, continue to live in squalid displacement camps that jostle for space among Mogadishu's building sites, cleared plots and new hotels, shops and office blocks.
With limited access to clean water, hygienic toilets, basic medical care and food, children quickly fall sick.
But despite the dire circumstances, the situation could be –- and in the recent past has been –- much worse.
"There are always ups and downs depending on the rainfall, and there are always around 200,000 children at risk of malnutrition," said Jean-Michel Delmotte, the head of the UN children's agency UNICEF in Somalia.
In this context, Delmotte said, the current period is one of "stabilisation... an opportunity to build resilience" rather than having to respond to emergencies.
Resilience may sound like a buzzword, but it is also an imperative, as humanitarian emergencies in places including Syria, Iraq, the Central African Republic and South Sudan compete with Somalia for limited humanitarian resources.
"We have to do better with less, or do differently," Delmotte said.