Brong Ahafo regional minister vows to arrest NPP leaders in juju scare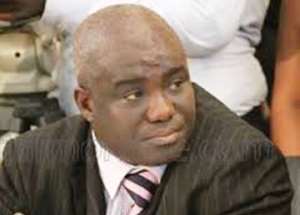 Brong Ahafo Regional Minister has vowed to arrest some New Patriotic Party (NPP) leaders in the region for sponsoring violence within the region.
The Regional Minister Eric Opoku says the regional security has obtained a confession from an NPP member who was arrested after violent clashes between the NPP and National Democratic Congress (NDC) at Sankore on 20 April.
According to the Minister, the arrested NPP man Kwame Aseidu has confessed being sponsored along with four others by the NPP leaders in the region to travel to Niger for spiritual fortification.
The aim of the alleged spiritual fortification of Kwame Aseidu was to foment unrest in the region. He added that Kwame Aseidu is the son of a Church of Pentecost elder.
"He led the security people, the imams, the pastors to the area where he claimed they buried the juju and fortunately they were able to bring this thing up......I want the NPP to come out, either condemn it or deny it", the Regional Minister told Joy News.
"He has mentioned some names of some of the leaders of the NPP", he revealed adding that the police are investigating the matter.
"Definitely those people will be arrested", he vowed.
But this claim has been challenged by the NPP chairman Kwaku Asuma Kyeremeh who has accused the Regional Minister of being behind politically motivated violence following the clashes in the region.
He continued that the attacks were linked to news that 38 members of the NDC had defected to the NPP.
The NPP chairman argued that the Regional Minister cannot stomach the news of party members abandoning the governing party hence the attacks.
The Brong Ahafo NPP Chairman's accusation against the Regional Minister for sponsoring politically motivated violence has not gone unchallenged.
He warned the NPP leaders to refrain from making inflammatory statements as his outfit works to keep the peace in the region.
Listen to audio
Story by Ghana|Myjoyonline|Edwin Appiah|[email protected]