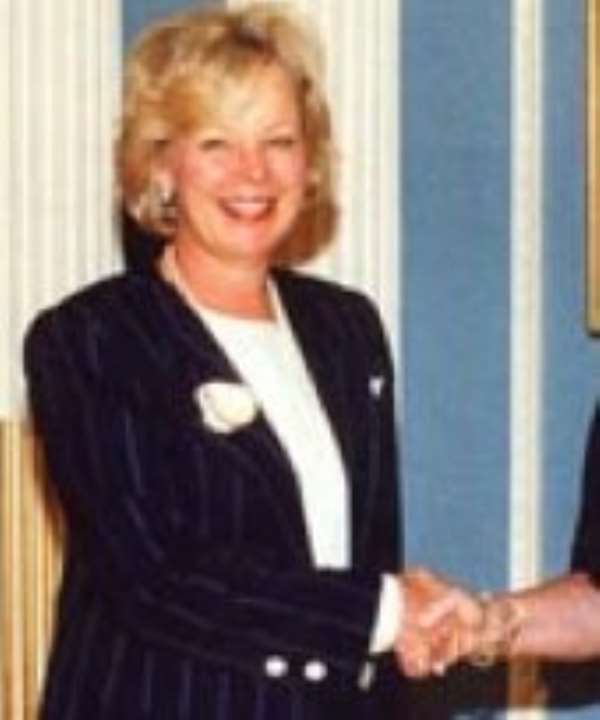 Gudayiri (UW), Aug. 19, GNA - The United States Ambassador to Ghana, Ms Mary Carlin Yates, on Thursday commissioned various projects sponsored by the United States Agency for International Development (USAID) and implemented by Adventist Development and Relief Agency (ADRA), in the Upper West Region.
The projects valued at 1.085 billion cedis included 11 hand-dug wells at a total cost of 295 million cedis and 225 household latrines costing 890 million cedis.
Speaking at the symbolic commissioning of the projects at Gudayiri in the Wa East District on Thursday, Ms Yates called on beneficiary communities to make judicious use of them to avoid diseases and other problems associated with the past.
She called on women in the region to take advantage of the programmes of non-governmental organisations in the area to improve their living standards since they were the nutritional custodians of families.
The US Ambassador said USAID was sponsoring a training programme for farmers in the communities and urged the beneficiaries to share their knowledge they had gained with those who had not benefited to improve farming practices.
Mr. Seth Abu-Bonsrah, Programme Director of ADRA, said the Agency and USAID had constructed 45 junior secondary schools, 58 primary schools, seven day-care centres, 37 KVIPs, 67 hand-dug wells, three dams and ten clinics in the region over the years.
He said apart from the infrastructure development, the Agencies had assisted 127 communities to undertake tree-planting projects covering 1,900 acres.
Mr Abu-Bonsrah said 2,500 farmers in 41 communities in the Wa, Nadowli and Jirapa/Lambussie Districts had been assisted to cultivate 2,620 acres of agro-forestry plots using cashew as the main tree crop as part of efforts to ensure food security.
The Programme Director said Nutrition and Preventive Health Education was being carried out in 35 communities involving 36 basic education schools in collaboration with environmental health officers and the Ghana Education Service.
He said over the last eight years, 74 water facilities consisting of 64 hand-dug wells and five boreholes were constructed at a cost of 1.5 billion cedis while 256 household KVIPs had also been provided with 1.3 billion cedis.
Mr Iddrisu Kaapuori, Assemblyman for Gudayiri, said the introduction of the USAID/ADRA programme had led to an improvement in the living conditions of the people.