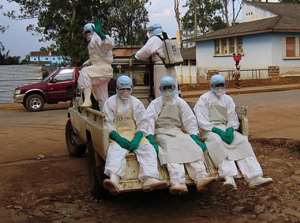 BBC World Service has been honored with a George Foster Peabody award for public service for its Ebola Service it was announced today.
In September 2014 in response to the unfolding Ebola crisis, BBC World Service launched bespoke public service resources for communities in West Africa, particularly targeting the three worst affected countries: Liberia, Guinea, and Sierra Leone. Special radio bulletins broadcast on the BBC's English service as well as other languages that broadcast to Africa including French, Hausa, Swahili, Kinyarwanda/Kirundi and Somali.
The BBC Ebola Service on WhatsApp went direct to people's mobile phones, with 22,000 direct subscribers receiving two or three push alert messages, images and audio a day, featuring practical advice on how to prevent the spread of the disease. It was the first time a humanitarian news 'lifeline' service was launched inside any messaging platform. There was also a BBC Ebola Community Facebook page.
Fran Unsworth, Director of BBC World Service Group, says: "When Ebola hit West Africa we knew our audiences would expect the World Service to respond in the right way. We have long-standing and close relationships with communities in the region - they make up around a quarter of our global audience.
"As a trusted news provider, it was our job to provide vital safety information and dispel some of the myths about how Ebola is transmitted, as well as to hold to account the authorities and agencies responsible for dealing with the outbreak. As the crisis unfolded we broadcast Ebola Public Service announcements four times daily to Liberia, Guinea and Sierra Leone in local languages. Subsequently, News About Ebola - a longer radio bulletin, was broadcast twice every weekday to our 10 million weekly listeners in English in West Africa, with extra shortwave transmissions to the affected areas.
....These were supported by our reporters based in the affected countries and with special deployments to the region. We developed the BBC Ebola Service on WhatsApp, direct to people's mobile phones. We're proud that the BBC World Service contribution to addressing the crisis has been recognised with this prestigious Peabody Award."
Judges of the George Foster Peabody Awards cited : "An incredibly important and consequential response to a global crisis, this multi-pronged BBC World Service effort shrewdly employed a variety of platforms – Twitter, website and apps as well as radio – to keep Africans abreast of the epidemic's advance and provide people the world over with reliable news".
The BBC's international development charity, BBC Media Action, has also played a vital role in tackling dangerous misinformation about the disease.
The Kick Ebola out of Sierra Leone and Kick Ebola from Liberia radio programmes give people information about how to avoid getting Ebola, how to get early treatment and how to break the chain of transmission. Radio drama, Mr. Plan Plan, helps people to plan ahead and think about what they would do should they or a loved one become infected with Ebola.