Driver sentenced 18 years for robbery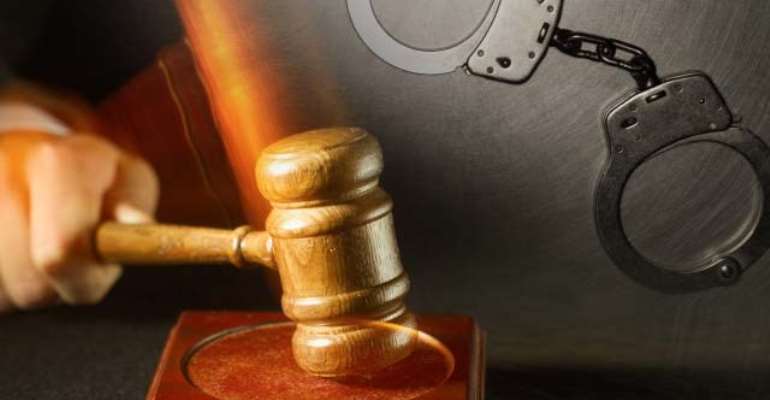 Accra, April 23, GNA - An Accra circuit court on Thursday sentenced one Kwasi Labah, a driver, to 18 years imprisonment for robbing one Augustina Ghartey in Accra.
He was arrested for stealing a hand bag containing GH¢ 550.00, two pens and a hand sanitizer.
Kwasi was said to have conspired with two others, now at large, and robbed the complainant.
He pleaded not guilty to the charge but was found guilty by the court after going through full trial.
Prosecuting, Police Inspector Kwabena Adu, told the court that the complainant is a trader and lives at Teshie Lascala but worships with St Bartholomew Anglican Church whiles the convict was a driver staying close to St Bartholomew Anglican Church.
He said on February 20, at about 0445 hours, the complainant was on her way to an early morning church service and the convict together with his accomplices now at large, were on board a Nissan taxi and stopped in front of the complainant.
Police Inspector Adu told the court that the convict sat in the car since he was the driver while his accomplices got down and approached the complainant and pretended to have lost their way asking the complainant to direct them to the church.
He said the complainant told them she was just at the gate entering the church premise; hence they could equally follow her into the church.
According to the prosecution, they however pulled out locally manufactured pistols and demanded she surrendered her hand bag.
They snatched her bag containing the items and quickly entered the taxi which sped off.
He said the complainant shouted for help and luck eluded the convict and his accomplices, just about 300 meters away from where they robbed her, when their car run out of fuel. They abandoned the car and took to their heels with the booty.
Police Inspector Adu said the convict, (Kwesi) and his accomplices after committing the crime, went into hiding but he was arrested on February 27 through the help of an informant.
Upon interrogation, he told the police that his accomplices were at Teshie Adoemi preparing to go for another robbery operation, hence wanted to lead the police to their hideout to arrest them, not knowing it was a well calculated plan for the convict to run away from the police.
The prosecution said when Kwasi was sent to where he claimed his accomplices where, he pointed out some people, and in an attempt to get them, realising the concentration of the police was on them, he took to his heels but was apprehended at a distance.
GNA