UGAG Condemns Attacks On Ghanaians In South Africa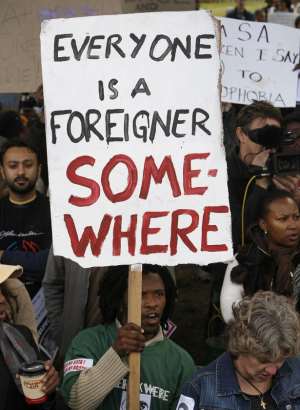 The Union of Ghanaian Associations in Germany (UGAG) is describing as very inhumane and unacceptable the xenophobic attacks on innocent Ghanaians as well as on other foreign nationals living in South Africa.
UGAG is calling upon the World Community to condemn these disgraceful and barbaric acts being carried out by a desperate group under the disguise of safeguarding their work places and property. We believe that there can be no justification whatsoever for such acts in today's Global world.
We all recall the unflinching support Ghana together with the African Union offered to South Africa in their struggle from apartheid and colonial rule. Not too soon, and what are we experiencing now?
UGAG is therefore requesting especially the African Governments to call on the South African Government to take imperative steps and guarantee the safety of lives and property of all people being attacked by the xenophobes.
UGAG is of the opinion that Ghanaians and all other persons have the right to live and to work in any part of the world without fear of attacks so long as they abide by the laws of the country they reside in.
Long Live Ghana!!! Long Live African Unity!!!
Akwasi Opoku Edusei
(UGAG, General Secretary)