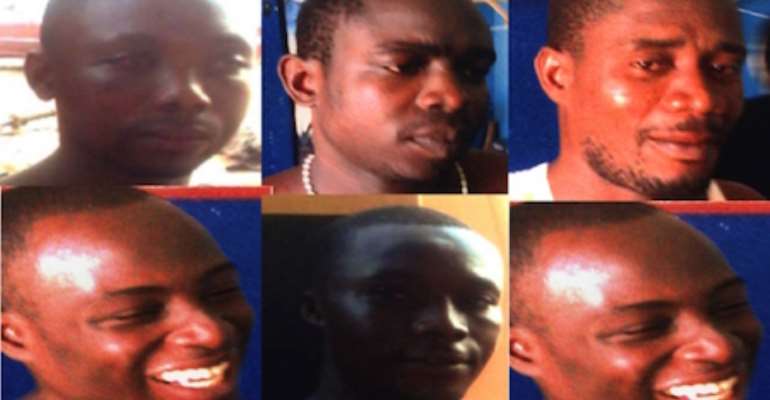 The five rearrested suspected criminals who broke jail at the Denu Police Station, near Aflao in the Ketu South Municipality of the Volta Region, have been remanded.
The suspects, who appeared before an Aflao circuit court in the same municipality, were remanded after pleading not guilty to the charges leveled against.
The suspects were not represented by a lawyer, and are to reappear at the court presided over by Judge Ali Baba Baturi, on Wednesday, 22 April, 2015.
Two other people who were arrested for allegedly hiding three of the suspects were also remanded into prison custody to reappear on the same date.
In a related development, the police have retrieved the second of the two missing AK 47 assault rifles together with 13 rounds of ammunition and one magazine. As a result of the nature of the case, hundreds of residents in the municipality besieged the precincts of the court while others entered the court room to witness proceedings for themselves.
The five are among seven suspects alleged to have overpowered two police officers on duty and escaped from the Denu police cell last month. The suspects were alleged to have made away with two AK 47 rifles and 25 rounds of ammunition.
However, after several days of searching, five out of the seven have so far been re-arrested from different locations and under different circumstances.
The first fugitives to be recaptured were Stanley Wada alias Kay bee, 30; Kwaku Azasu alias Voyo, 24 and George Dabla, 24 aka Black Jesus.
When interrogated, they accused the police of negligence.
According to the three, all seven of them literally walked out of the cell without any obstruction as the police personnel on duty that fateful Friday dawn, 13 March, 2015, were nowhere to be found. The three who were arrested at a shrine in Klikor near Agbozume, added that they had help from two Nigerians who came to open the cell and set them free.
A fourth escapee, Linus Ashietey, was re-arrested a day after the three in the Republic of Togo with the help of the police in that country. The police by that time had retrieved one of the two AK 47 assault rifles that the fugitives took away.
The fifth culprit, Edem Gomala, 22 years, whose picture was not available to the police at the time of the jailbreak, was re-arrested last Tuesday evening at Nanteme, a village close to Korpeyia, near Denu.
The police later found the second rifle abandoned at a beach in Aflao with the ammunitions and the magazine.
The Volta Regional Police Commander, DCOP Peterkin Yentumi Gyinae, who confirmed all these developments to DAILY GUIDE, said that the police were working around the clock to recapture the remaining two fugitives.
Albert Obina, 21 and Tobe Chucku Asadu, 20 - both Nigerians are the two left to be recaptured.
FROM Fred Duodu, Aflao
([email protected]com)