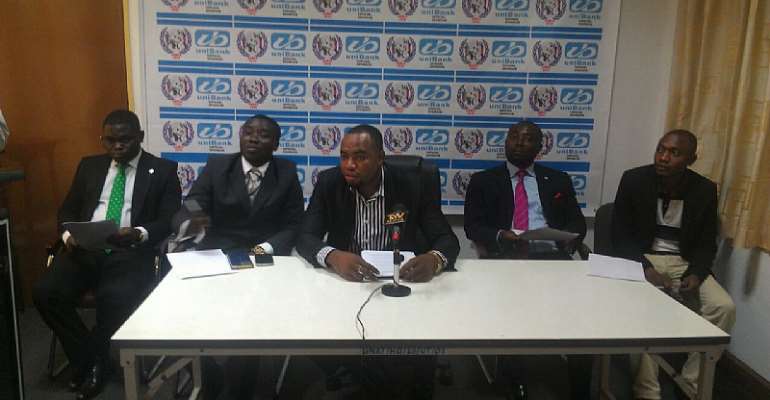 The Private Universities Students' Association, Ghana (PUSAG) has entered into partnership agreement with Unibank for full realisation of its 8th annual games and entertainment this year.
The National President of Private Universities Students' Association- Ghana (PUSAG), Mr Adams Sukparu, said Unibank , after the struggle and the pain of visiting most private entities, government and non – governmental organizations , ministries and others stakeholders, finally decided to zoom in with their support of sponsoring PUSAG games for a period of 5years (2015-2019).
According to him, the partnership was birth at the peak of the preparation for this year's event to be held from 23rd to 27th March, 2015.
The President noted that the new partnership with Unibank, the title sponsor,
will make the 8th annual PUSAG a colourful one.
He added that the role Unibank is playing in the various facets of development in the country makes them the second to none with its scope as trailblazers in the financial and banking sector.
"We would like to inform the world and all stakeholders in all sectors in the
country, that we the over 100,000 students and the alumni of the private
universities in Ghana are sincerely grateful and hold in high esteem this
partnership," he stated.
The PUSAG Games is one of their major programmes organized every year since the establishment of the Association in 2005.
More so, he noted that the game was also established to continuously promote and enhance a cordial relationship that exists between member institutions.
This annual festival, he said, has also helped a lot of youth to acquire more skills in various areas that empowered them to create appositive impacts in their communities as students.
According to him, it is in this regard that, the National Executive team of the
association has assiduously been adopting measures to make the event better
in the country.
The association was formed in 2005 with initial five private varsities namely Central University College, Methodist College, Valley View University and Pentecost University College.
However, PUSAG has a membership of over 40 private universities with student population of about 70,000.
By Abubakari Seidu Ajarfor, [email protected]