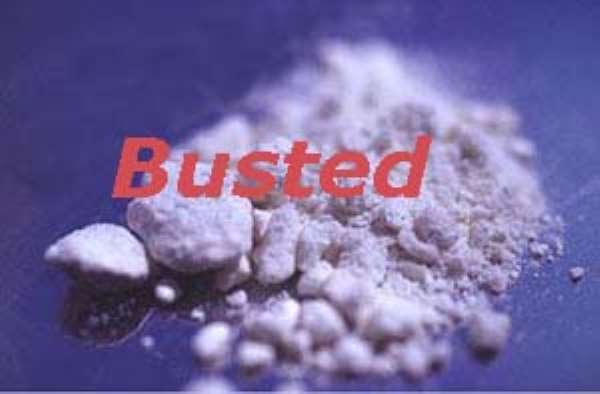 Accra, Aug. 10, GNA - John David Logan, a 43-year-old British on Tuesday denied that he travelled to Ghana to conspire with five others to deal in narcotic drugs.
Logan said he came to Ghana to meet Frank Levelrick one of the accused persons, who is also his Business Partner, to find ways of solving problems on a faulty tanker and vessel in dispute in Nigeria. Logan, who was led in evidence by Mr Addo Attuah, his Counsel, further, denied that he had created the impression to the Police that he was a visitor in Ghana, during his arrest on January 7, 2004.
Logan and five others; Kevin Gorman, 59, American; Mohammed Ibrahim Kamil, Ghanaian; Frank Lavelrick 43, Alan Hodson 45, all British and 45-year-old Sven Herb, a German, have been charged with conspiracy and possessing 588.33 kilograms of cocaine without lawful authority. Gorman, Lavelrick and Hodson were additionally charged for importing narcotic drugs without licence from the Ministry of Health. Gorman was further charged for using his property for narcotic offence.
They have all pleaded not guilty to the charges and are in Prison custody.
Logan, who had worked for several companies in Tema, told the Accra High Court that he had been in Ghana since 1992 and had been staying at Tema Community Two.
He said he was a Businessman and Managing Director but not a visitor as portrayed by the Prosecution earlier on.
According to him he also established a company known as Majala International Ghana Limited in 1997 in Tema.
Logan said on January 7, 2004, he was in the house of Gorman in Tema when Security Officers arrested him and four other accused persons. According to Logan, he was in Gorman's house because he had asked him (Gorman) to allow him to stay there because he owed rents and was receiving deaths threats on his phone from Nigeria.
"I was staying with Gorman because, I also was waiting for Lavelrick; so that we could travel to Nigeria to solve problems confronting my tanker and vessel," he said.
He said they were arrested on suspicion that narcotic substances had been found in Gorman's house.
Logan said the Police showed them some boxes in the house of Gorman, which they alleged contained narcotic drugs. According to him he was not aware of any narcotic drug hidden behind a mirror in Gorman's house.
"I don't know anything about the narcotic substance found in the house of Gorman", he said.
During cross examination by Mr Anthony Gyambiby, Chief State Attorney, Logan admitted possessing three passports and said he had travelled with them to Nigeria on six to seven occasions. He maintained that the boxes allegedly containing the narcotic drugs were retrieved from Gorman's House in Tema.
When asked why he had been frequenting Nigeria, Logan said: "I was fighting for the release of a vessel and to meet Chief Eyo Itah, a Cement Specialist in Calabar."
Logan maintained receiving death threats from Nigerian and cited a text message he had earlier received on his mobile phone. When asked why he continued to visit Nigeria in spite the threats, Logan said Chief Itah, whom he had informed about the threats, provided security for him.
Prosecution: In your statement you said it was Herb, who picked you at the Airport when you arrived on January 2, 2004.
Logan: Yes my Lord.
Prosecution: Did you know he was to pick you?
Logan: No.
Prosecution: Did you find out who made the arrangement for him to pick you?
Logan: Yes. It was Gorman, who asked Herb to pick me because of his ailment.
Prosecution: Did you declare your money at the airport?
Logan: Yes I did. I had 8,000 dollars and 5,200 dollars on me.
Prosecution: Did you tell the Police why you brought those monies?
Logan: Yes I did but I cannot remember what I told them.