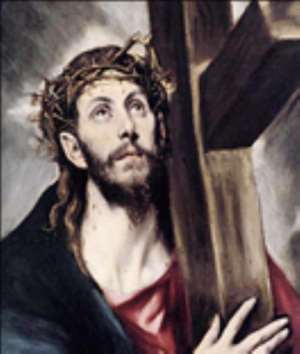 CONTD FROM PART XVIV.
In todays introduction I wish to draw every believers attention to a truth which is often ignored. If we are filled with the Spirit of Christ it will change our attitude to help transform our caring for the believers, which is caring for one another.Because Jesus Christ was full of God (Matt.9:11-12), He had the attitude of a physician and not as a judge when dealing with us.
As a physician in calling the people to follow Him for the kingdom, the King of the heavenly kingdom ministered as a Physician, and not as a Judge. You will know that a judge's judgement is to correctness or righteousness. However as a Physician, Jesus healed the infant Christians and upwards according to mercy and grace.So Like Jesus Christ who came to minister as a Physician, so must we(believers); to heal, recover,enliven, and save us that we might be reconstituted with the element of God in Christ.
Remembering though, that you and me were called by Jesus Christ from one of the following, if not almost all of them, to begin His kingdom.Jesus Christ began the Church/Inn with :lepers (8:2-4), paralytic (8:5-13;9:2-)sinners(8:9-11)and despised tax collectors,those ill with all kinds of diseases (8:16), the demon possesed (8:16,28-32),and the fever-ridden(8:14-15). Unlike Jesus Christ, if believers continue to castigate one another and remain unrepentant with continuous judgemental or insinuation attitude, towards one another;we may end up with no one in our fellowship.Am I suggesting therefore we condone sinful characters? No far from it, having the right understanding and attitude (like Christ) WILL RATHER be supportive ,so that it will help us help each other to come out and remain repentant . It will help us to come out of torturing ourselves and move on with our focus on Jesus Christ. It is the devil who will always remind you of your shortfall.
I have been in the Church long to have seen that,those who mocked the backsliding or fellow believers have often found themselves in similar if not worse offenses.In Christ we cooperatively pray for each others infilling and strengthening by the Holy Spirit.
Now in v.34; In God's recovery by life, God first sends the watchmen to sound the trumpet to His people that they may repent, turn, and live (ch 33);then He Himself appears as the Shepherd to search for and seek out His sheep. After John the Baptist sounded the trumpet of repentance (Matt. 3:3-2),the Lord Jesus came as the Shepherd ( Matt. 9:36; Luke 15:1-7; John 10:11).
As the Shepherd, the Lord will gather His people. He will gather His sheep, out of the nations and bring them back to the land of Canaan, which typifies the all-inclusive Christ as the allotted portion of God's people (Deut.8:7), to dwell on the high mountains (v.14), signifying the resurrected and ascended Christ.
Let me digress a little bit to continue on Deut.8:7,14 : a share further more on the idea that Canaan is or signifies the resurrected and ascended Christ. Which states "For Jehovah your God is bringing you to a good land, a land of waterbrooks, of springs and of fountains, flowing forth in valleys and in mountains;
"The good land, the land of Canaan, is a full, complete, and consummate type of the all inclusive Christ. Jesus Christ is the embodiment of the Triune God (Col.2:9). We do also realized that Christ, is the all-inclusive life-giving Spirit (1 Cor.15:45; 2 Cor.3:17), as well as our inheritance allotted to God's people for their enjoyment (Col.1:12 and note 2;2:6-7;Gal.3:14).Meaning as we have received Christ, we should walk in Him. Here to walk is to live, to act, to behave, and to have our being. We should walk, live, and act in Christ that we may enjoy His riches, just as the children of Israel lived in the good land, enjoying all its rich produce. The good land today is Christ as the all-inclusive Spirit (Gal.3:14),who dwells in our spirit (2 Tim.:4:22; Rom.8:16) to be our enjoyment. To walk according to this Spirit (Rom.8:4; Gal.5:16) is the central and crucial point in the New Testament.
In Gal. 3:14; we do hear a mention of "blessing of Abraham come to the Gentiles in Christ Jesus. This verse indicates that the Spirit is the blessing that God promised to Abraham for all the nations and that has been received by the believers through faith in Christ. The Spirit here is the compound Spirit, as mentioned, and actually the Spirit is God Himself processed in His Trinity through incarnation, crucifixion, resurrection, ascension, and descension that we may receive him as our life and everything. This incidentally happens to be focus of the gospel of God.
The physical aspect of the blessing that God promised to Abraham was the good land Gen.12:7;13:15;26:3-4), which was a type of the all inclusive Christ, which I earlier explained in (Col. 1:12).Since Christ is eventually realized as the all-inclusive life giving Spirit (repeat 1 Cor.15:45; 2 Cor. 3:1) therefore the blessing of the promised Spirit correspond with the blessing of the land promised to Abraham. So actually, the Spirit as the realization of Christ in our experience is the good land as the source of God's bountiful supply for us to enjoy.
Therefore back to my analysis of Deut. 8:7;I continue by saying therefore that riches of the good land vs,7-9 typify the unsearchable riches in Christ in different aspects(Eph.3:8) as the bountiful supply to His believers in His Spirit (Phil.1:19). The waterbrooks, springs, and fountains signify Christ as the flowing Spirit (John 4:14;7:37-39; Rev.22:1), and the valleys and mountains signify the different kinds of environments in which we may experience Christ as the flowing Spirit (2 Cor.6:8-10).
Wheat typifies the incarnated Christ, who was crucified and buried to multiply Himself (John 12:24), and the barley, being the first-ripe grain (Sam. 21:9), points to the resurrected Christ as the first-fruits (1 Cor.15:20).
Vines typify the Christ who sacrificed Himself to produce wine to cheer God and man (Judge 9:13;Matt. 9:17). The fig tree speaks of the sweetness and satisfaction of Christ as life supply (judge 9:11); the pomegranates signify the fullness, the abundance and beauty, and the expression of the riches of Christ as life (Exo.28:33-34; 1 Kings 7:18-20; S o S. 4:3b,13). The bread signifies Christ as the bread of life (John 6:35,48); whilst the olive tree typifies Christ (Rom. 11:17) as the One who was filled with the Spirit and anointed with the Spirit ( Luke 4:1,18; Heb.1:9).Olive oil typifies the Holy Spirit, by whom we walk to honour God and whom we minister to honour man (Gal.5:16,25; 2 Cor.3:6,8; Judg.9:9 and milk and honey (6:3) speak forth the goodness and sweetness of Christ(Exo.3:8), as I am doing with our sharing.
Until next when God enables us to share something new (continue), become a means by which you encourage someone today from lifting themselves up from their fall in their journey in Christ. Be such a believer from now on.