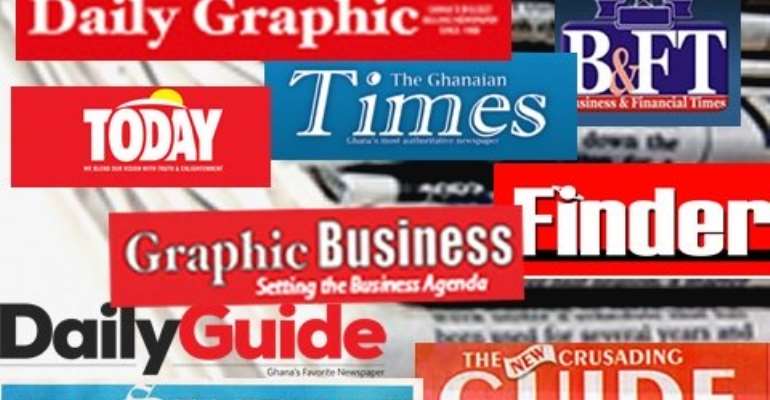 LET'S SCRUTINIZE VOTERS REGISTER – GOVERNANCE EXPERTS
Three governance experts and a former presidential aspirant have underscored the need for the Electoral Commission to ensure transparency in the electoral process leading to the 2016 elections.
2 KNUST STUDENTS DIE IN ACCIDENT
Two students of the Kwame Nkrumah University of Science and Technology (KNUST) perished in an accident yesterday afternoon when the bus on which they were returning from a church service skidded off the road and hit a tree.
VALERIE SAWYERR , KWASI QUARTEY GET NEW APPOINTMENTS
President John Dramani Mahama has made changes with the announcement of two new appointments at the Presidency.
68-YEAR-OLD WOMAN KILLED AT ALAVANYO
The Volta Regional Police Command has initiated investigations into a shooting incident at Alavanyo which claimed the life of a 68-year-old woman.
I'M READY TO DIE – AMIDU JABS GBEVLO
Former Attorney General and Minister of Justice, Martin Alamisi Ben Kaizer Amidu, has sent signals to his detractors to the effect that he does not fear death.
MAN BEHEADS AUNTIE
The Yamfo Township in the Tano North District of the Brong Ahafo Region was thrown into a state of shock after a young man did the unthinkable by cutting off the head of his own auntie over the weekend.
SACK KOFI BOAKYE – NDC TELLS MAHAMA
The National Democratic Congress (NDC) Security Caucus of Kumasi has charged President John Mahama to quickly remove DCOP Kofi Boakye, the Ashanti Regional Police Commander, and two other top police officers from the region.
INDUSTRY NEEDS Ȼ1BN AS STIMULUS PACKAGE TO SAVE JOBS
The Association of Ghana Industries (AGI) has made an appeal to government to establish at least a Ȼ1 billion stimulus package as a short-term measure to save industries from total collapse.
DOCKET ON POLICE RECRUITMENT SCAM GOES TO AG TODAY
The Police Administration will today submit the docket on investigations into the recruitment scam to the office of the Attorney-General and Minister of Justice today for advice.
KEJETIA TERMINAL TRADERS THREATEN NAKED DEMO
Traders at the Kumasi Kejetia Terminal have threatened to go on a naked demonstration on Wednesday, March 25.
MUSICIAN PLOTS TO KILL PRODUCER FOR TERMINATING HIS CONTRACT
A Ghanaian music producer nearly met his untimely death at the hands of an upcoming musician when he abruptly terminated a two-year contract to manage the suspect's music career.
DZAMEFE COMMISSION REPORT READY
Barring any unfrozen circumstances, the report of the Justice Senyo Dzamefe Commission which probed Ghana's participation on the 2014 World Cup tournament in Brazil will be submitted to President John Dramani Mahama this week.
FOUR CHIEF ESCAPE IMPRISONMENT ON CONTEMPT CHARGES
The Nkawkaw High Court, presided over by Justice Nathaniel K.E. Osam , has acquitted and discharged four prominent chiefs in the Kwahu Traditional Area in the Eastern Region on contempt charges.
MILLS THREATENED AMIDU
It has emerged that he late President John Evans Atta-Mills, in his desperate bid to prevent some of his ministers from being prosecuted over the roles they played in the fraudulent payment of Ȼ51.2 million in judgement debt to Alfred Agbesi Woyome, threatened his own Attorney General, Martin Amidu with dismissed if he went on to prosecute the Woyome case.
BAWUMIA SPEAKS ON GHANA'S IMF BAILOUT PACKAGE TOMORROW
The 2016 vice presidential candidate of the New Patriotic Party will tomorrow, March 24, deliver his assessment of the International Monetary Fund's bailout package accessed by the Mahama-led National Democratic Congress government.
US WARNS GHANA: OUR MONEY IS NOT FATHER CHRISTMAS
USAID Mission Director for Ghana, James A. Bever says Ghanaians should not see financial aid from America give-away but treat it with the same radicalism and rigour as the rest of the state spending
TELECOM CHARGES TO GO UP
Phone calls and other mobile services rates are expected to go up sooner or later, the Chief Executive Officer of MTN Ghana, Serame Taukobong has said, indicating that, low tariff regime may not be sustainable any longer for the telecom industry due to ever-increasing operational coast.
CEDI FALL RATTLES INVESTORS
Moody's Investor Services has downgraded the country's sovereign bond rating from B2 to B3 ahead of  government plans to issue its third Eurobond in three years.
GOVERNMENT STILL OWES BDCS 'BIG'
While they admit it is subject to further audit, Bulk Oil Distribution Companies (BDCs) estimate government's indebtedness to them has built up to some Ȼ2.1 billion again, as the sum of different clashes of debt.