Kweki, the crippled girl crawling to success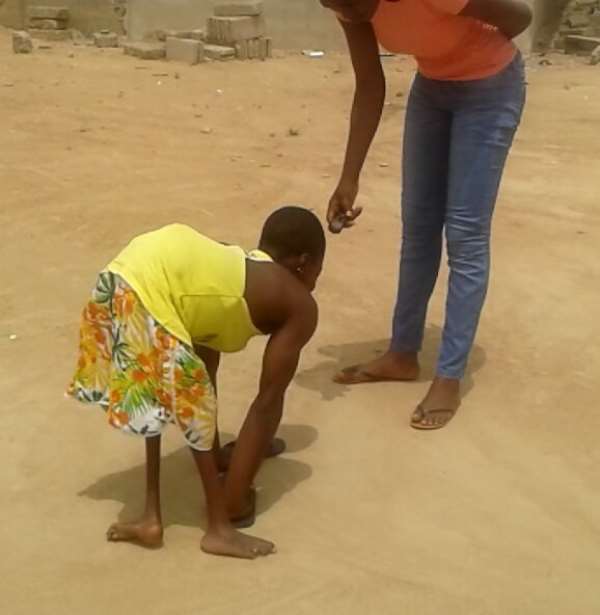 Unlike some cripples who sit on foot bridges and by road sides to beg for alms, Irene Kweki Tetteh says she wants to learn how to sew and become one of the best designers in the world.
"I hate to be a burden. I have been a fighter from infancy, and I will fight till I win", this was Kweki's response when I asked her why she did not choose to beg for alms on the street.
She says the discrimination from her family and some of her schoolmates forced her to move from Ayitepa, a village near Akosombo to Ningo both in the Eastern Region.
Kweki did not know anyone at Ningo but she woke up one day and told her mother she wanted to move out of the town.
She joined the Methodist Church after she arrived at Ningo. The church saw her potential and decided to help her.
I told her I like her name, Kweki, but she said she hated to be called by that name. Her reason was simple: the name was given to her by her dad who abandoned her because of her situation.
She told me she wants to achieve her big dream of becoming a famous designer to shame her father and those who think she can't make it because she is disabled. 
Irene Kweki Tetteh also uses beads to design shoes and slippers and sings at church with her beautiful voice.
The head Pastor of the Methodist Church at Ningo, Rev. Mrs. Patience Osei- Poku Afful says she met Kweki on one of her visits to Ayitepa.
The church found shelter for Kweki after she moved to Ningo. They got then her a place to learn how to sew.
"It was difficult to even get someone to teach her, no one wanted to admit her because of her situation", the head pastor said.
Interestingly despite Kweki's challenges with walking, she has refused to accept a wheel chair from one of the church members.
I asked Kweki why she refused the wheel chair and she said "I enjoy crawling and I believe I can do bigger things than you who have both legs. A wheel chair will make me weaker", she explained.
I asked her to tell me her wish and she said all she needs is her personal sewing machine to better her sewing skills.