Raw materials based economy impeding Ghana's development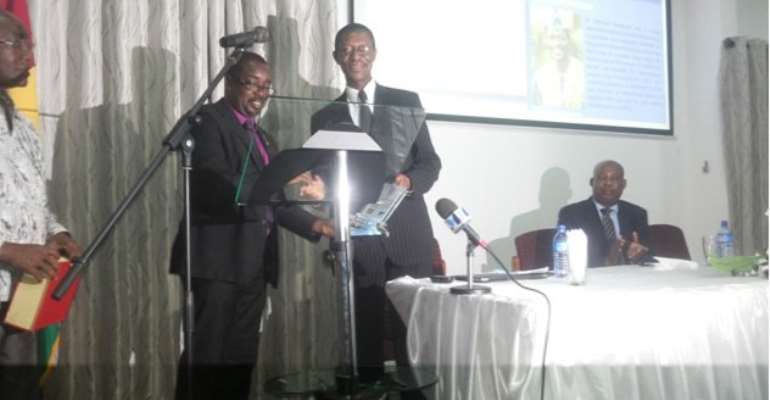 Chairman of the Interim Leadership Team for the African Forum on Religion and Government (AFREG), Delanyo Adadevoh has recommended a shift from the raw materials based economies and the removal of Iron Age tools in agriculture to foster development.
He said Ghana, like most African countries, will not achieve its full development potential unless Ghana's leaders spearhead efforts to transform the situation.
Dr. Adadevoh made this known when he delivered the inaugural evening lecture of the annual "Ethics and Leadership" Lecture Series instituted by the Ghana Institution of Engineers (GhIE) on Thursday, February 12, 2015 at the Engineers Centre, Roman Ridge, Accra.
Speaking on the topic: "Transformational Leadership and Ethics: A Key Driver for Excellence and Wealth Creation", Dr. Delanyo Adadevoh explained that for over 10 decades, Ghana continues to rely on raw material exportation, use of cutlasses and hoes for agriculture, and lacks basic amenities of life.
Dr. Delanyo Adadevoh urged Ghanaian Engineers to attach God-fearing characteristics such as compassion and selflessness to their works to bring development to the country.
He also admonished Engineers to embrace ethics based on values like productivity, maximization and excellence to solving national and global issues.
He also recommended to Government to form Technology Solution Teams and partner with Private Sector for effective development to our dear nation.
Dr. Adadevoh has a strong passion for helping transform Africa into a responsible and respected member of the global community that has a unique distinctive of a moral vision based on biblical and ethical values.
He obtained his PHD in Interpretation Theories at Leeds University, England.
In his welcome address, the President of the Ghana Institution of Engineers, Ing. Magnus Lincoln Quarshie explained that the "Ethics and Leadership" Lecture Series has been instituted by the Ghana Institution of Engineers to be held in February of every year for the enhancement of ethical practice in all professions.
In a speech read on behalf of the Chief Justice, Her Ladyship Justice Georgina Theodora Wood, Justice Issifu Omoro Tanko Amadu, Justice of the Court of Appeal, urged Engineers to take their rightful place in the socio- economic development of Ghana by ensuring that our infrastructural developments stand the test of time, thereby eliminating the incidence of building collapses, among other failures, that have engulfed the nation in recent times.
The Annual Lecture Series was also officially inaugurated by the Justice Tanko Amadu, representing the Chief Justice.