'Dumsor' creates mobile-phone charging business for Asante-Bekwai family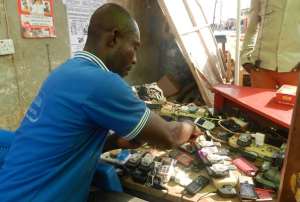 A 42-year old man is taking advantage of the current erratic power supply to provide the biggest commercial mobile phone charging service at Asante-Bekwai.
Yaw Gyamfi Boamah who started the business over a year ago, receives averagely 70 phones a day for charging, with market days as the peak.
This innovative business idea appears to have been rubber stamped by what has become generally known as the dumsor-dumsor.
Yaw Boamah's clients are made up of both residents and visitors who troop to the center to have their phones charged.
The father of three has become the toast of mobile phone users who are assured of alternative and reliable means of keeping their communication devices active.
Patrons pay what he calls a token of one cedi for each phone he charges irrespective of the power source. This means he makes at least Gh 500 a week. For a family of four, Gh 500 a week is more than enough for its upkeep.
He combines the phone charging business with the sale of call-cards, phone chargers and phone covers.
Despite the huge number of phones he has to keep in his custody for charging, Yaw guarantees owners safety of their property.
On a busy day like this, one of Yaw Gyamfi's sons helps him to attend to his numerous clients who forms a meandering queue and wait patiently for their turn.
 They have no option but to endure the noisy sound of Yaw's power generator, as they try to catch the attention of a man surrounded by several extension electric wires.
A health-product distributor is one of Yaw Gyamfi's numerous customers. He told Nhyira News life would have been difficult for him had it not been the commercial phone charging center.
"I have been patronizing this center for the past three months and it's very helpful. Without this, I don't know what would have happened to me and my numerous business partners", elated Mr. Boateng revealed.
A former student of Barekese SHS, Nana Yaw is a resident of Asante-Bekwai. He has been patronizing Yaw Gyamfi's center for sometime now.
"As a young man, your phone must be on always to be able to communicate with your love ones. This is where I come anytime the lights go off". He said.