Vishal Thakwani gets the last word in the Spelling Bee 2015 national finals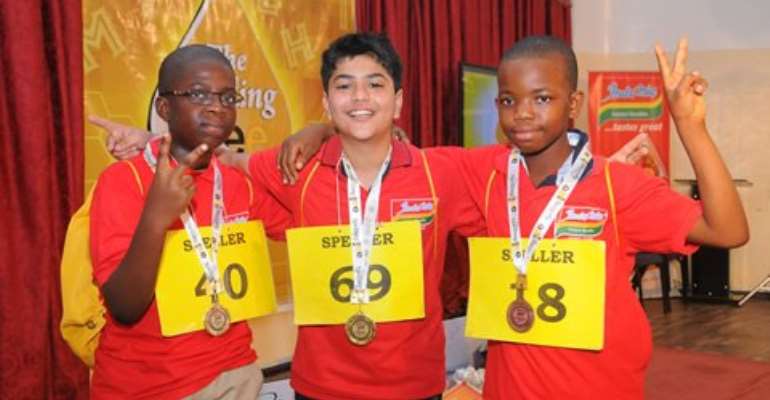 Twelve year old Vishal Thakwani of Delhi Public School International, Tema emerged the best speller in Ghana for 2015 at the just ended national finals of The Spelling Bee.
Vishal, who beat 81 other spellers from around the country to emerge winner, will represent Ghana at the 88th Scripps Spelling Bee in Washington, D.C., USA. 
His winning word was 'xiphias' (pronounced zi-fee-as), which is the common swordfish genus.
Second and third runners-up, Kobena Asamoah and Lord Mba gave Vishal very stiff competition during the final stages. 
Vishal and Kobena were locked in a battle of words for an anxiety-packed 6 rounds, where they both kept the audience at the edge of their seats, guessing which of them would emerge winner. 
Then Kobena misspelt 'kiskadee', thereby giving Vishal the opportunity to spell his championship word 'xiphias'.
The six best spellers of The Spelling Bee 2015 were Vishal Thakwani of Delhi Public School International, Kobena Amoah of Crown Prince Academy, Lord Mba of University of Cape Coast Primary, Messiah Majid of Falsyd Foundation, Yedhu Krishnan of Delhi Public School and Chelsea Tiban-Ye of Barbara International School.
When asked how it felt to finally clinch the title on his 3rd attempt, Vishal said, with a wide grin, "I am speechless!"
Country Director of Young Educators Foundation, organizers of The Spelling Bee, Mrs. Eugenia Tachie-Menson said "we are very pleased with the outcome of this year's competition. 
"The best speller did emerge winner and we are all happy for Vishal and his family.  We hope he will make Ghana proud in the USA, come May 2015."