Nima residents appeal for resumption of stalled storey-building public toilet project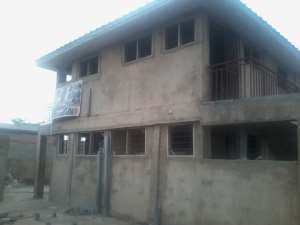 Residents of Nima are appealing to the Accra Metropolitan Assembly to complete work on the only storey-building public toilet project in the community.
 The project has stalled for two years now because of lack of funds.
The situation is forcing residents of Goliliet, a surburb in Nima to resort to open defecation because they are scared of using the alternative, dilapidated KVIP structure, which they say could collapse at anytime.
Nima is a community where majority of the population don't have toilet facilities in their homes.
At Golilet, government started a project in 2010 to construct a 48-seater, one storey building toilet facility for residents. But the project stalled in 2012 because the contractor has run out of funds.
The lower floor and upper floor of the storey building have both been constructed and roofed, with the necessary segmentation into various compartments done. A wall has been built around the structure. What is left is for the water closets to be fixed, and for the plastering of the building to be done.
A resident, Paul Yamoah told Joy News they would want the AMA to quickly resume and complete work on the project as a measure to discourage open defecation, which is increasing the spate of diseases like cholera in the area.
When contacted, Assembly Member for Nima West, Umar Sanda Mohammed said there are several on-going projects competing for attention, hence the difficulty in securing funding for the completion of the storey building toilet facility.
"We are not the only electoral area. What I want to have from AMA in my community, I am not getting all," he told Joy news.