Gen. Mosquito Must Apologise For Wearing Wife's Coat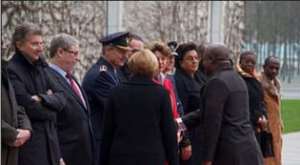 Pressure group, Alliance for Accountable Governance is calling on Johnson Asiedu Nketia, the General Secretary of the governing National Democratic Congress (NDC), to apologize to Ghanaians for "humiliating the country" after admitting he wore his wife's fur coat on an official trip Germany.
Mr Johnson Asiedu Nketia popularly called General Mosquito, was trending on social media with many users mocking him for wearing a woman's coat when he traveled with President John Dramani Mahama.
Mr Asiedu Nketia has admitted wearing his wife's brown fur coat, but insisted he did not embark on a fashion trip, hence, the debate over why he chose to wear it is simply unnecessary.
"We went for brain work, not a fashion show. We were going to use our brains to help the country, not that we are going to showcase our attire at fashion show," he said.
AFAG, however, blamed President Mahama for allowing the General Secretary to "willfully subject the good people of this country to such great humiliation."
The group also questioned why General Mosquito remained with the President's entourage "for the entire period of your visit without returning him to Ghana to show leadership."
"This would have detached government and the good people of Ghana from this all time embarrassing feat chalked by no mean a person than the general secretary of a ruling party," a press release from the group stated.
"Mr. President, your national chairman's behavior is bad example, a mockery to the separation of government in power to party, and a precursor to weakening of state institutions. This is a terrible legacy we advise you not to associate yourself with," they added.
They, however, called on President Mahama to compel General Mosquito to apologize saying "we demand an unqualified apology from government and the NDC general secretary for embarrassing Ghanaians."
Meanwhile, Member of Parliament for North Tongu, Samuel Ablakwa has said Mr Asiedu Nketia should be commended because wearing his wife's coat shows how romantic he is.