Asiedu Nketia Insults Hard Working Diasporans - We Are Not Carriers Of Night Soil!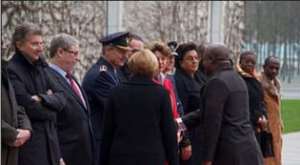 Our attention has been drawn to the shocking and horrifying comments of the Chief Scribe of the Ruling Party (NDC) of Ghana on HELLO FM, a sister radio station of PEACE FM in Kumasi, when he was confronted about his recent misjudgement and improper dressing.
In an interview with HELLO FM, Mr Asiedu Nketia said that he felt no shame about wearing his wife's winter coat to meet the esteemed German delegation with President John Dramani Mahama on 19th January 2015 in Berlin, Germany and that he was fortified in adopting that attitude because no white man approached him about it whilst in Germany. To add insult to injury, the Ruling Party's scribe explained that he had no need for a winter coat and that it was rather Ghanaians living abroad who needed it because their jobs involve carrying night soil. This is against the backdrop that he had earlier stated that he had gone to Germany to undertake what he described as 'brainwork'.
It should be noted that earlier the President and Mr Asiedu Nketia were seen speaking to Ghanaian residents of Germany when they went there.
We the members of the Young Executive Forum (YEF) of Ghanaian residents in the United Kingdom have taken the liberty to write on behalf of ourselves and other Ghanaian residents abroad, to express our profound umbrage and disquiet at comments coming from no less a person than a member of the President's delegation to Germany. As an open minded association, we initially refused to be drawn over the General Secretary's faux pas when an uproar ensued over the matter.
However, in an attempt to cover up his rather abysmal ignorance and clear lack of basic dressing etiquette, the General Secretary has demonstrated a certain arrogance that has provoked us beyond our control. We regret to note that unless the President apologizes for the actions of his Chief Scribe, by his actions, Mr Nketiah has given us a clear indication as to what Ghanaians living abroad mean to the Ruling Government – purveyors of night soil.
We would however wish to inform the President that those of us resident abroad are used to very decent standards in the conduct of the affairs of men in public and will not accept this extremely unwholesome approach to political discourse.
We are also extremely concerned that this saga alongside others will give serious cause for concern about Ghana's reputation abroad. The fact that Mr Nketiah dressed in a way that would be perceived in the West as likely to be done by someone with a perverted sense of sexuality, joined and travelled with the President's delegation without raising any eyebrows from anyone, including ladies, from the President's team, clearly suggest a certain lack of attention to detail on the part of the President and his team. It therefore does not come as a surprise that the President and/or his ministers were able to sanction the airlifting of $4.5million across thousands of miles to Brazil. As if that was all, a young lady is arrested in London with 12.5 kg of cocaine and it is revealed that she was assisted by high level political operators to undertake this obviously criminal activity and had even been permitted to use the VVIP lounge of our Country's only International Airport.
We would want to inform the President that the vast majority of Ghanaians living abroad are engaged in meaningful and decent enterprises. Our association consist of Ghanaian men and women resident in the UK are either engaged in professional work or in business. Members of this association are engaged in a wide range of professions from Management Consultancy, Law, Finance and Investment, Media and Entertainment to Technology, Civil Engineering and Social Work.
Therefore comments of the sort coming from such a senior member of the Government of Ghana are extremely disquieting and we therefore respectfully demand an unqualified apology from the President and his Party's Chief Scribe.
(The Secretariat)
Young Executive Forum UK