Asiedu Nketia Stops News File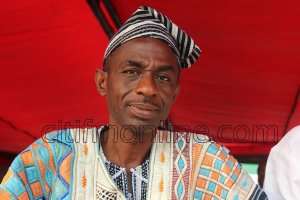 The failure of Johnson Asiedu Nketia aka General Mosquito, National Democratic Congress (NDC) general secretary, to appear on a panel discussion last Saturday compelled Joy FM not to air its popular current affairs and news analysis programme, News File.
That was the first time since its inception that the flagship programme of the radio station had not been aired.
The discussion was to centre on Ghana's electoral reforms and Asiedu Nketia was to be on the panel with colleague general secretaries from the opposition parties.
The ruling NDC chief scribe, fresh from Germany where he reportedly wore his wife's overcoat - that became the subject of scorn worldwide last week - failed to attend the programme and rather asked one of his deputies, Koku Anyidoho, to represent him.
This incensed his colleagues from the other parties, including Kwabena Agyepong of the New Patriotic Party (NPP), Ivor Greenstreet of the Convention People's Party (CPP) and Kofi Asamoah Siaw, the Progressive People's Party (PPP). They all decided to boycott the programme, terming the action of General Mosquito as a mark of arrogance.
The general secretaries from the opposition side were already at the premises of the radio station - which also beams the programme live on television – to discuss proposals for electoral reforms put forward by the Electoral Commission (EC) but they decided against their participation when they learned that Asiedu Nketia's deputy was rather the one coming to represent the NDC.
In spite of persistent persuasions by host of News File, Samson Lardy Anyenini, the general secretaries left the premises on the grounds that the General Mosquito was demeaning and disrespecting them by not attending the programme.
Kwabena Agyepong later said that on three previous occasions, Mr. Asiedu Nketia had refused to turn up at some forums meant for political party chief scribes.
Mr. Greenstreet was also not happy with the attitude of the NDC top man and expressed concern about how some of the ruling party's officials treat the public.
There was mixed public reaction following the boycott of the programme.
Head of Political Science Department of the Kwame Nkrumah University of Science and Technology (KNUST), Dr. Richard Amoako Baah, described the general secretaries of the three major political parties in the country as 'emotionally incompetent' for refusing to be part of the programme in the absence of Mr. Asiedu Nketia.
According to him, they should have used that opportunity to speak more about their party in the absence of the NDC representative rather than boycotting the show.
'They should have educated the public more thus, by taking advantage as politicians. They have actually thrown away their chance. What they did was emotionally incompetent,' he bemoaned.
BY William Yaw Owusu