'I've Used My Wife's Coat To Several Countries'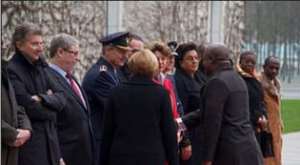 National Democratic Congress (NDC) General Secretary, Johnson Asiedu Nketia aka General Mosquito, has asserted that he had been using his wife's coat on his travels abroad, thereby contradicting his earlier claims.
He made this revelation on Asempa FM's 'Eko Sii Sen' talk-show programme in Accra.
'It is true. The coat belongs to my wife. I was just using it to keep me warm against the cold weather.
I could not have bought new coat just for a few days' visit.'
'I have been using it for my travels. I took it to China, London, Denmark and other places. That's what I have been using so I don't understand why some people should get worried about what I wear.'
He said, 'My wife has lived in Canada so she brought those clothes and I took the coat for the Germany visit.'
Mr. Asiedu Nketia was snapped wearing a camel-coloured, fur-trimmed coat belonging to his wife, on the trip to Germany with President John Mahama last week. He has since been ridiculed by his colleague politicians and a section of the international media.
Even though he admitted the coat belonged to his wife and he used it for the trip, the circumstances under which he has been explaining the issue has raised eyebrows.
Initially, he told Hello FM , a Kumasi-based radio station, on Friday that he had taken the coat to Germany by mistake and said that he and his wife had the same sets of clothes.
Mr. Nketia said, 'There is no law barring people from wearing their wives' clothes and vice versa and admitted that his wife had been wearing his clothes as well.
'Let them know that we went to do brain work and not fashion show. If they think that travelling with the president is about fashion show, it is up to them. I heard people like Kofi Jumah passing comments and so on that I didn't know how to do proper shopping. I didn't find it necessary to go and buy a winter jacket for two days' visit. I have always been going with my wife's jacket and I don't see any problem with it at all,' General Mosquito retorted.
'Kofi Jumah was the one who was taking GH¢10 million per diem in those days and so if you are holding that amount you can go to any shop and buy new things. Whether you will use them for only 48 hours or 24 hours it is not necessary. I have better use for my money,' the NDC top notch uttered.
Protocol Breach
The managing editor of the Insight newspaper, Kwesi Pratt Jr. has asked President John Dramani Mahama to sack his protocol officials for allowing Asiedu Nketia to wear a woman's winter coat belonging to his wife.
"What is the duty of the so-called state protocol? If you go to a function in some part of this country – dependant on the way you wear your hat – you can cause a war…dressing is about making a statement also and that is why we employ some people, pay them, give them resources so that they may keep public officials fully abreast with this development so that they do not cause embarrassment. The president cannot travel without the assistance of the state protocol and they were there and they saw Asiedu Nketia moving out of his hotel room into the car all the way to the meeting in a woman's coat and nobody said anything? Immediately some heads must roll in the department of the state protocol…' he underscored.
According to Kwesi Pratt, the protocol officials should have been able to tell Mr. Johnson Asiedu Nketia that the winter coat he was wearing belonged to a woman.
Speaking on Radio Gold's 'Alhaji & Alhaji' programme on Saturday, Pratt said the issue must not be trivialised because people are paid to check everyone that moves with the president.
"Every day we get embarrassed because somebody does not do his work well. And they continue to be in office and embarrass us more…Next time it will not be a woman's coat…so the blame is not on Asiedu Nketia because he is not an European…I will not blame him because he simply doesn't know…he's never seen winter before. He doesn't know the difference between a women's coat and men's winter coat and children's winter coat and so on but somebody is paid to know so that Asiedu Nketiah may be advised so that his dressing does not become a distraction. How come those who are paid to do the job do not do their job?' he queried.
By William Yaw Owusu