Heavily Armed Soldiers & Police Arrest People, Ransack Homes & Destroy Properties In Kumawu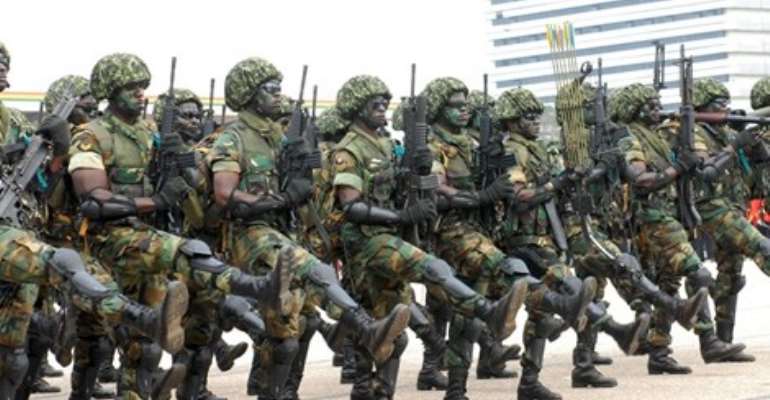 Heavily armed soldiers and police have descended on Kumawu today, 22 January 2015, on marching orders by President Mahama. This is on request by Asantehene Otumfuo Osei Tutu II. Asantehene is trying to save his face from the shame that has enwrapped him following the videos, "Asantehene involves in corruption" and "Asantehene dances to Yen ntie Obiara" lyrics posted on YouTube that have gone viral.
The soldiers and policemen have arrested the supposed deposed Kumawu Nsumankwaahene famously "Amount" and people from Aduanahene's house when they did not meet him in person. They have also arrested a brother of the deceased Kumawu Kontrihene Nana Peprah Koduah IV.
They knocked down Aduanahene's door, entered his house and removed all documents from his rooms, destroyed his furniture and many other things. They have been to Kumawu Akwamuhene's house in Kumawu-Wonoo, smashed his door, destroyed documents and furniture and other valuables. They are combing all corners in Kumawuman to arrest Barimah Tweneboah Koduah V, and all the other chiefs that Asantehene claims to have destooled in Kumawu.
The soldiers and the police are currently in Kumawu and they will be there as long as it takes, alleges President Mahama and Asantehene Otumfuo Osei Tutu II, alias Kwaku Duah. I thought he has built a tough skin that insulates him against all eventualities. He has proven how vulnerable he is, crying to Asanteman chiefs and President Mahama for help. He had better renounce his criminal nature, the only way he can redeem himself from blame and ridicule, but not the acts of intimidation he has resorted to.
I have phoned to inform Peace FM of what is currently going on in Kumawu. Radio Sources FM online has been made aware of the situation.
Stay tuned for more revelations. I had more revealing news to tell but the incident taking place at the moment has to take precedence. I am trying to establish contact with the BBC to pass on the information and all that I know about Asantehene pertaining to the Kumawu chieftaincy disputation and how he intends to sell Kumawuman lands to a Norwegian business tycoon as well as taking a 50% share of Kumawuman's money sitting in the bank of Ghana.
The soldiers and policemen in Kumawu number up to one thousand (1, 0000) strongmen and women.
It was only yesterday that I heard some people have put me on their hit list. By the grace of God, all those looking for me to kill will all die mysterious deaths before me. They will be struck by mysterious illnesses or suffer sudden, unexplained death same as happened to biblical Herod Agrippa. (Acts 12 – especially Acts 12:21 - "On a chosen day Herod put on his royal robes, sat on his throne, and made a speech to the people. 22 They shouted, "This is the voice of a god, not a human!" 23 Because Herod did not give the glory to God, an angel of the Lord immediately caused him to become sick, and he was eaten by worms and died"
I am proud to announce that God is on my side. I am His vessel for exposing President John Mahama, Asantehene Otumfuo Osei Tutu II, Kumawuhemaa Abenaa Serwaah Amponsah and Dr Yaw Sarfo (Barimah Sarfo Tweneboah Koduah).
At this stage, I shall entreat all my family members not to worry needlessly about me, but rather join in spirit with those ten of thousands of people wishing the speedy release of all those illegally arrested by the police and soldiers since Sunday, 18 January 2015.
God will Himself conquer Asantehene and his cohorts within weeks or months. I have that strong belief.
Rockson Adofo