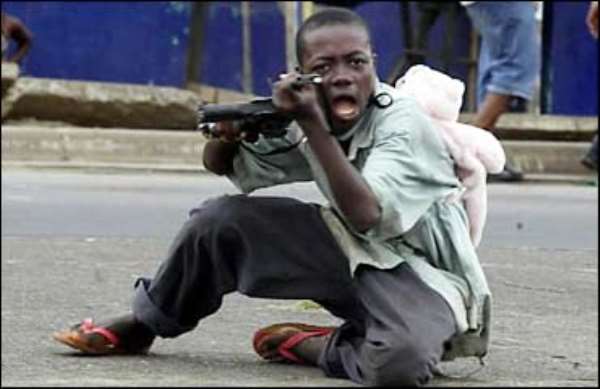 ....NDC, NPP tension in Tamale The whole of Ghana and Tamale in particular might replicate the Liberian situation if immediate measures and impartial decisions are not taken by the Northern Regional security agencies and the government to resolve the prevailing tension between the National Democratic Congress (NDC) and the New Patriotic Party in the region.
The Northern Regional deputy youth organiser of the NDC, Avorka Awudu, sternly told members of the newly inducted Northern Regional Peace Advisory Council in Tamale on Tuesday, this week.
The Chronicle was told that between May 23 and June 30, this year, 23 NDC sympathizers were shot by NPP gunmen within the Tamale metropolis.
According to Mr. Issa Seidu, the Tamale NDC youth leader on the May 23, this year, 15 supporters of the NDC were shot in broad daylight and on the next day one Alhassan Nashiru was shot on the Old Cemetery road in Tamale by some NPP youth.
He said activist Nashiru's case should be seen as more disturbing since he was not found at any of the 'illegal' spots, like a rally ground or a registration center.
"Clearly, this was another lawless expression of frustration without respect of human life," Mr. Seidu said.
It was gathered that the mastermind behind this shooting incident is one Karimu Soja, an ex-service person, who was released from detention by the NPP administration and now vents his anger on NDC supporters, choosing Tamale as his battle ground in a bid to please his saviours.
However, it is as result of all this and other multiple effects that Azorka Awudu furiously spat his 'venom' on the members of the Regional Peace Advisory Council, when they called on the regional executives of the NDC to introduce themselves.
Awudu further stated in pidgin English, "Master, NPP people dem no like peace, ask them how many of dem people get bullet wounds, you for check dis sityation no bi so we go see another Liberia."
Meanwhile, the Peace Advisory Council has pledged to work with all political parties in the region and all stakeholders relentlessly to achieve peace and the lifting of the state of emergency on the region.
In an interview with The Chronicle, Alhaji John Yakubu, the NPP representative on the Council, disclosed that the total outbreak of indiscipline among political party functionaries in the region, especially the NPP and the NDC, has been the cause of these frequent incidents in the metropolis.
He added that, "Myself and most NDC regional executives are close friends and have no reason to feud."