2nd Melcom Memorial Day Observed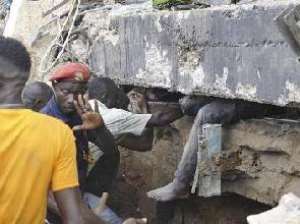 The 2nd anniversary of the infamous collapsed of the Melcom Achimota rented shop has been held in Accra with a promise by the company to ensure safety of staff and customers at all Melcom shops nationwide.
The short but emotional ceremony attended by both senior and junior Melcom staff, families and sympathizers of the disaster victims as well as the media was held at the forecourt of the Melcom Plus office at Kaneshie, a suburb of Accra.
In his address, Melcom Group of Companies Director of Communications, Mr. Godwin Avenorgbo, described the day as a painful experience to recall the saddest moment in the company's history in which thirteen dedicated staff were perished.
He therefore lauded the dedication and confidence exhibited by staff of the company during and after the disaster for chosen to remain and are currently gainfully pursuing their various vocations with other Melcom branches across the country.
The Communications Director reaffirmed the company's commitment to sponsoring at least one child of each of their departed employees who lost their lives in the disaster up to the highest level of education they can attain.
He announced that his outfits further commit themselves to proceed in offering scholarships to children of Melcom's serving staff who have qualified under the competitive Melcom Education Scholarship Scheme from the basic to tertiary levels respectively.
Mr. Avenorgbo went ahead to disclose that approval has been given for an additional ten education scholarships for children of Melcom staff countrywide and that the 2014 approval cover staff from Melcom's Accra Central, Warehouse, Head Office, Bolgatanga, Melcom Plus-Kaneshie, Koforidua as well as Kumasi 1 branches respectively.
This he indicated brings the total number of scholarships to children of serving Melcom staff within one year of the scheme's institution to twenty, covering beneficiaries in basic, senior high and tertiary levels.
In a speech he read on behalf of the Melcom's group Chairman, Mr. Bhagwan Khubchandani, the Communications Director revealed that the company awarded ten scholarships at the start of the exercise last year to children of Melcom staff.
He disclosed that they have concluded the payment of compensation as determined by the medical authorities and labour office under the workmen's compensation act to all staff affected by the infamous November 7, 2012 disaster.
To ensure safety of their customers and staff nationwide, he assured Melcom's cherished customers that structural integrity tests by accredited structural engineers have been conducted on all rented buildings housing Melcom shops and their own buildings.
He promised the people of Achimota, where the disaster occurred that his company will leave no stone unturned to re-establish an Achimota Melcom branch as soon as they succeed in their search for land or building to house them.
Mr. Godwin Avenorgbo on behalf of the Melcom Group of Company thanked the government and people of Ghana for their continuous support to his outfits. Vbc vb vb bvbv