CAF in race against time to find Nations Cup hosts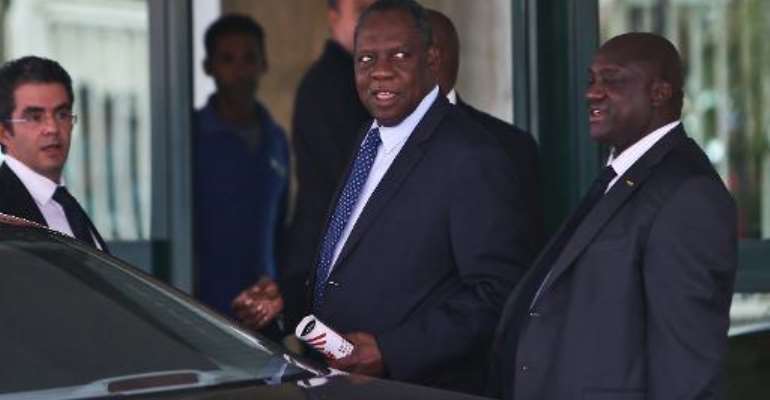 Paris (AFP) - The Confederation of African Football (CAF) are set to announce the new hosts for the 2015 Africa Cup of Nations in the next two or three days after Morocco was stripped of the right to stage the tournament on Tuesday.
Morocco had said since early October that its call for a postponement was due to the deadly Ebola pandemic, but CAF, led by long-serving President Issa Hayatou, lost patience with the North Africans and threw them out as hosts and participants with a heavy fine likely to follow.
The fact that Morocco are also set to host the Club World Cup, only 25 days before the scheduled January 17 kickoff, threw further doubts over Morocco's reasons prompting Hayatou and his members to pull the plug.
"To postpone the Africa Cup of Nations would be like stopping African football dead," Hayatou told France 24.
"Once you postpone this event, it will open the door for everybody to ask for a delay of any competition and we will no longer be credible." added the 68-year-old Cameroonian who has been in office since 1988.
Now, the question is who has the capacity to step in at such a late hour with organisation and logistics thrown into chaos, just weeks ahead of the 30th rendition of the competition.
Angola, who hosted the 2010 tournament that was marred by a separatists' gun attack on the Togo team bus, are in the running as are Gabon who co-hosted the 2012 edition with Equatorial Guinea.
Rumours however that the three-week continental showpiece could be moved outside Africa with 2022 World Cup hosts Qatar an unprecedented option were dismissed by Qatar Football Association vice-president Saud al-Muhannadin.
"It is illogical, the news is false." he told AFP.
Angola, with their extensive oil resources have the money and the stadiums in place, but the attacks on Togo which led to two deaths in the restless northern enclave of Cabinda may work against their bid.
South Africa, Ghana and Algeria have declined CAF's approaches while Nigeria's name has been whispered although the country is in the midst of an unstable political climate.
The Ebola disease has claimed almost 5,000 lives, essentially in Guinea, Liberia and Sierra Leone, ironically countries with whom Morocco have maintained incoming and outgoing flights, unlike many other countries.
Morocco have also hosted Guinea's qualifying matches with the Western African nation banned from staging matches in their own country.
The CAF also confirmed that qualification matches for the tournament will go ahead as planned on November 14-15 with the final round of matches set four days later.
Those matches will determine which 15 teams will join the new hosts for the final stages which are set for January 17 to February 9, dates that CAF have adamantly said will not be changed.
Moroccan officials and fans reacted with mixed feelings on the shock announcement but sports minister Mohamed Ouzzine defended their stance and said they had simply asked for a postponement, until the disease was brought under control.
"The CAF statement said we refuse to organise the Nations Cup, and it's wrong. We want the tournament in our country, but we maintain our demand to postpone it," Ouzzine told parliament.
"Morocco has not breached any contract because of the force majeure (Ebola epidemic). We will not rush to answer, but everyone should know that we are prepared for all eventualities,".
"The WHO (World Health Organisation) says that every country has the right to take the necessary measures to protect its citizens. The whole world is incapable to find some treatment or some solution for that disease (Ebola), so isn't it a force majeure?
"We can talk about sanctions now, but we should not forget what would happen in case we have not taken our decision."
Morocco's stance is set to see them face further sanctions, notably financial but there is also the threat they could be banned from further CAN competitions.
CAF executive committee member Constant Omari defended the decision to strip the 1976 winners of the right to stage what would have been their second tournament, after 1988, when they reached the semi-finals.
"The CAF put no pressure on Morocco but they are a member who belong to the CAN. We signed an agreement that the CAN would be organised between January 17 and February 8 and there was no talk of postponement during the inspections.
"Then two months before the tournament, Morocco decide they want to change the dates. These dates have not been decided randomly, it is a season when all of Africa has a period of more or less dry weather. We have incorporated these dates into the universal FIFA calendar and it is our showcase event.