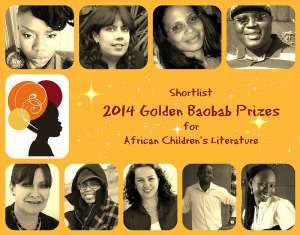 Accra, November 2, 2014 – The Golden Baobab Prizes have announced their shortlisted writers for 2014. Established to inspire the writing and publishing of African stories that captivate the minds of children, the prizes award $20,000 to talented African writers and illustrators. The prize package also includes publishing and training opportunities to honorees.
For the 2014 Prizes for Literature, Golden Baobab received 210 manuscript submissions representing 13 African countries. After going through Golden Baobab's 13-week evaluation process which is renowned for its rigor, the shortlist features 3 writers from South Africa, 2 from Ghana, 2 from Kenya and one each from Nigeria and Zimbabwe.
The 2014 shortlisted writers are:
The Golden Baobab Prize for Picture Books
• Portia Dery (Ghana) – Grandma's List
• Shaleen Keshavjee-Gulam (Kenya) – Malaika's Magical Kiosk
• Mandy Collins (South Africa) – There is a Hyena in my Kitchen
• Mike Mware (Zimbabwe) – The Big Ball
The Golden Baobab Prize for Early Chapter Books
• Bontle Senne (South Africa) – The Monster at Midnight
• Mamle Wolo (Ghana) – Flying through Water
• Mary Okon Ononokpono (Nigeria) – Talulah the Time Traveller
• Hillary Molenje Namunyu (Kenya) – Teddy Mapesa and the Missing Cash
• Jayne Bauling (South Africa) – The Saturday Dress
Speaking on the occasion of the shortlist's announcement, Golden Baobab executive director, Deborah Ahenkorah commented, "Our esteemed judging panel has a tough job ahead and we wish them all the best! There are many wonderful stories in the shortlist this year. We are proud of the writers who have made it this far and wish them all the best! It is an honor for us here at Golden Baobab to play a small role in their writing careers."
No stories from the Golden Baobab Prize for Rising Writers made it onto the 2014 shortlist. The winners of the 2014 Golden Baobab Prizes for Literature as well as the winners and shortlist for the 2014 Golden Baobab Prizes for Illustrators will be announced on November 13, 2014.
ABOUT THE GOLDEN BAOBAB PRIZES
The Golden Baobab Prizes were established in July 2008 and inspire the creation of African stories by gifted African writers and illustrators to captivate children's minds. The Prizes invite entries of unpublished stories and illustrations created by African citizens irrespective of age, race, or country of origin. The Prizes are organized by Golden Baobab, a Ghana-based pan- African social enterprise dedicated to creating a world filled with wonder and possibilities for children, one African story at a time.
The organization's Advisory Board includes renowned authors Ama Ata Aidoo and Maya Ajmera. Golden Baobab is proudly supported by Echoing Green and The African Library Project.
For further information, photos or to arrange interviews, please contact: Eunice Ahenkorah via [email protected]
Tel: +233-50-529-8941. Website: www.goldenbaobab.org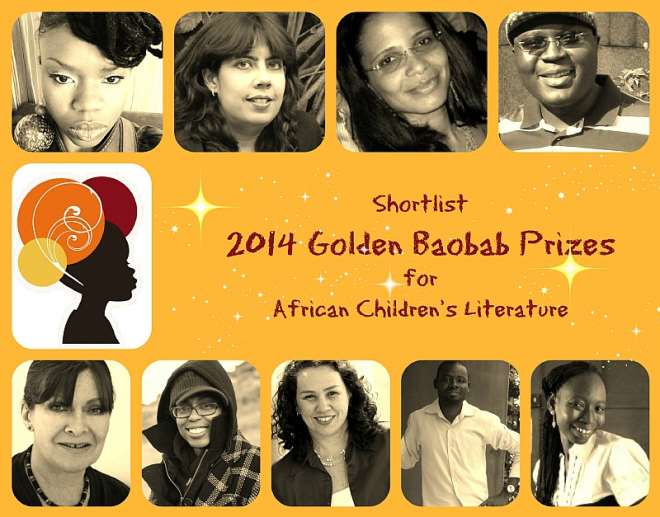 GOLDEN BAOBAB SHORTLIST COLLAGE