I Am Sorry For President Mahama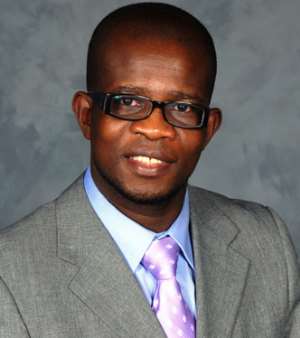 While I believe that as fallible beings, humans do make mistakes and blunders here and there, now and again, nevertheless, I am not a great believer of apologies, although I know how genuine apologies sound, read and feel like. And I sincerely don't believe that Dr. Kpessah Whyte meant even the minutest bit of the apology that he reportedly rendered to the leaders of some 12 striking labor unions in the country.
According to one report, the Mahama presidential staffer had impugned the professional and intellectual capacity of each and every one of these union leaders to "negotiate forcefully on pension-related issues" (See "Kpessah Whyte Apologizes to Labor Union Heads" MyJoyOnline.com / Ghanaweb.com 10/25/14). I really don't know the field or discipline of his professional expertise, and I had not bothered to Google the same as of this writing, and so I shall pass up any comments on this score.
What strikes me as rather odd, though, is the fact that the man who was recently named head of the Ignatius Kutu Acheampong-founded National Service Scheme, did not come off to me as one who fully appreciated the deleterious implications of his casual impugnation of the caliber of the men and women who run the public sector of our country. If he did, Dr. Whyte would have thought more studiously and carefully before he made his inexcusably scandalous remark. In essence, we are apt to interpret the Mahama staffer to be implying that the entire public and civil service apparatus in the country is managed by complete idiots and nincompoops.
If the preceding interpretation has validity, then, of course, such characterization ought to, perforce, include the very personality who has consented to run a country with such a ramshackle institutional apparatus. But even more poignantly, what this means is that Ghana's entire panoply of leadership had better be promptly retired and replaced by a whole new generational set of first-rate industry administrators and labor leaders. And the old misfit or grossly incompetent leadership, of course, includes Dr. Kpessah Whyte.
But even more significantly, were he as astute as he implicitly claims to be, Dr. Whyte would have voluntarily offered to personally represent the 12 labor union leaders and their respective union members, knowing very well that these democratically elected union representatives woefully "lack the [requisite knowledge and] expertise to forcefully negotiate on pension-related issues."
Maybe the first step is for Dr. Whyte to explain to the nation precisely where the striking labor union leaders have gone wrong. And also why the critic believes they went wrong and how. Already, Dr. Whyte has informed the nation that he has examined the profiles of these union leaders and finds each and every one of the 12 leaders to be significantly under-qualified for their respective portfolios. And so the logical question is just how forcefully would Dr. Whyte negotiate with the Mahama administration on the pension-related issues to the greater benefit of public-sector workers, if he were given the chance to do so?
Poignantly called up on his indisputably condescending and derogatory comments against trench-haunching Ghanaian civil servants and public-sector employees, Dr. Kpessah Whyte was reported to have responded as follows: "My comments were not intended to malign or question the intelligence of the leaders of the unions; and if they feel slighted by them, then I am sorry."
Now, I have a big problem with this half-hearted, or expediently acquiescent, sort of apology. In other words, it is the unalloyed conviction of Dr. Kpessah Whyte that his comments were fundamentally on target. He is only sorry and apologetic now, because he has been promptly upbraided by the woefully underestimated, albeit unsurprisingly nimble, targets of such gross rhetorical abuse. And this is the caliber of men with whom President John Dramani Mahama has surrounded himself at the Flagstaff House. I fear for Ghana!