Delayed league start affecting economy – Hearts defender Owusu Bempah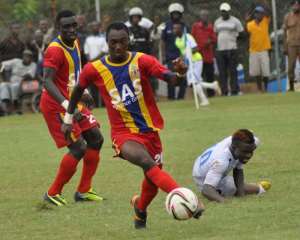 Hearts of Oak defender Owusu Bempah says the delayed start of the Ghana Premier League will inevitably have an adverse effect on economic activities.
The Ghanaian top flight has been delayed over what appears to be a never-ending legal tussle between King Faisal and the Ghana FA.
Faisal have secured a court injunction to prevent the GFA from holding its ordinary congress session – a prerequisite for the commencement of the football season.
The Kumasi-based club are ultimately contesting their relegation status after finishing amongst the bottom three clubs in last season's campaign.
Faisal want to replace Aduana Stars as a Premier League survivor over a technicality but the Ghana FA's disciplinary committee have ruled otherwise.
Many especially club administrators have complained over the draining resources with each passing day of non-competitive league action.
Owusu Bempa who captains the Ghana U20 team says players are also suffering but worse of it all is the effect the indefinite postponement is having on economic activities in the country.
"For us the players we are really worried by the delay of the league especially those of us with the national teams," he told Metro FM.
"I am with the Ghana U20 team and players have to remain very competitive ahead of next year's African Cup in Senegal.
"We only get the chance to sharpen our skills when playing regularly in the league.
"But it doesn't affect only we the players. Whenever there is a league match, people come to sell and economic activities booms.
"So it also has an effect on economic activities."