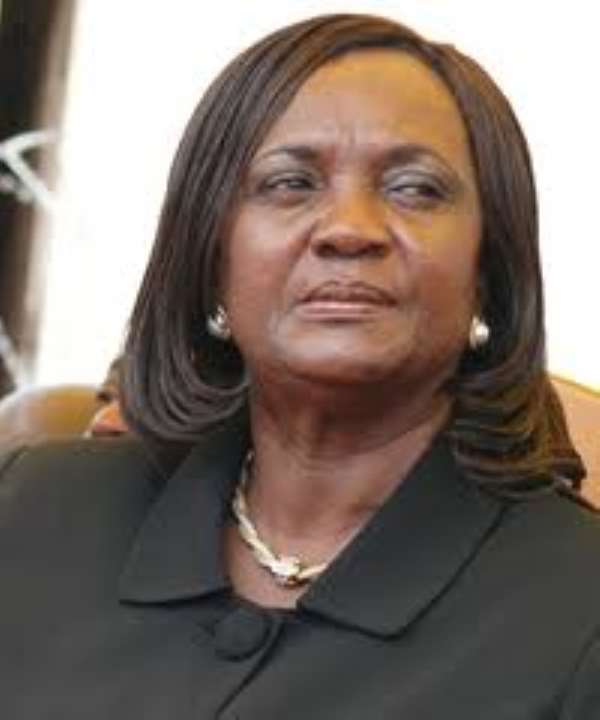 Mrs Georgina wood
Akomadan (Ash), Oct. 02, GNA - The Chief Justice, Mrs Georgina Theodora Wood, has called for increasing use of the Alternative Dispute Resolutions (ADR) by litigants to settle conflicts to save time and cost.
       
She said the other high point was that this was less acrimonious because unlike the open court, it involved mediation, arbitration and negotiation.
      
'There is no winner takes all' and could help the parties to stay together in harmony - without bitter feeling about the outcome of the settlement, she said.
      
The Chief Justice said this in an address read for her at the inauguration of a GH¢250,000 Magistrate's Court at Akumadan in the Offinso North District.
She said more mediators had been trained for the ADR to handle cases outside the open court.
      
This, however, does not prevent anybody from going to court if they so wished to secure justice.
     
The district assembly financed the construction of the building from its share of the District Development Fund (DDF).
      
Mr Samuel Sarpong, Ashanti Regional Minister, said there was the need for people to uphold the law and conduct themselves well to bring down court cases.
      
They should stay away from criminal activities to avoid coming into confrontation with the law, he said.
      
Mr Sarpong urged the assembly to work hard to speed up the progress of the area and invited the chiefs and people to give strong backing to the assembly to carry through its development agenda.
      
Nana Wiafe Akenten III, Omanhene of Offinso, said litigation retarded progress and tended to create enmity and, therefore, advised the people not to be dragged into needless conflicts.
      
They should find peaceful ways to deal with minor disputes, especially over land, to preserve the peace.
       
He praised the assembly for the project and said the structure must be properly kept.
       
Mr Samuel Kwadwo Appiah-Kubi, District Chief Executive, said the establishment of the court would bring relief to people and end the situation where they had to travel to Offinso and Kumasi to seek justice.
 
GNA