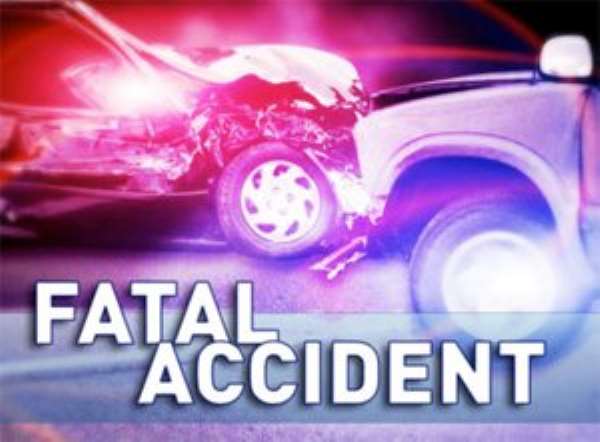 The accident truck in the drain
Two Persons met their untimely death, whilst two others sustained various degrees of injury in separate accidents which occurred in Tema, in the Greater Accra Region.
The first victim who was not immediately identified but believed to be in his late thirties, died on the spot after he was knocked down by a hit-and-run driver around the Tema Community 8 bus stop on the Tema-Akosombo dual carriage way.
According to an eyewitness, the deceased was crossing the road when he was hit and killed by the speeding driver who refused to stop.
Efforts to make the driver stop after killing the man proved futile. Some drivers reportedly attempted to chase and arrest him but that did not yield any results either.
Another male, believed to be in his early forties, was also killed by a vehicle on the Tema-Aflao highway – between Tema Steel Works Junction and the Tema Motorway roundabout.
The lifeless bodies had since been deposited at the Police Hospital in Accra, whiles investigations into the accident continued.
Assistant Superintendent of Police (ASP) Olivia Turkson, the Public Relations Officer (PRO) of the Tema Regional Police Command, explained to DAILY GUIDE that the second accident occurred lastTuesday, September 23, 2014when the suspected driver was driving from Steel Works Junction to the Motorway roundabout.
The driver, only identified as Stanley, was said to be driving a Toyota Corolla LE with registration number GN 2984-10, when the deceased, dressed in blue shirt and blue tittered jeans from nowhere, crossed the vehicle and was knocked down, leading to his death.
She said that the driver in the second accident was in detention assisting in police investigations.
According to her, efforts were being made by the police to apprehend the hit-and-run driver who was driving the unregistered vehicle that killed the man on Sunday, September 21, 2014.
The Tema Regional Public Affairs Unit has called on the general public,  - especially those who have not seen their family members who fit in the above description, since Tuesday, September 23, 2014 – to contact the Tema Regional Motor Traffic and Transport Department (RMTTD).
A post-mortem examination will be arranged and police are appealing for witnesses to call RMTTD on phone numbers, 0303-202779 and 0299-200123 or contact the Public Affairs Department on 0243-228494, 0546-881917 and 0303-20153 for identification and collection and collection of body.
In a related development, two persons on board a Benz articulator truck with registration number GN 9912-13 narrowly escaped death when their truck skidded off the road and fell into a nearby drain.
From Vincent Kubi, Tema