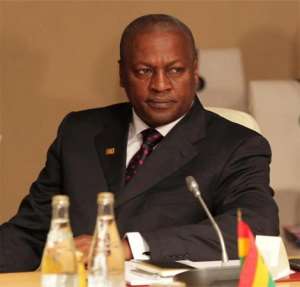 I want to believe that His Excellency, President John Mahama is an honour able man. I also like to believe that in theory, when people are appointed to public offices, they have a moral and legal duty to protect the nation's assets for the next generation of Ghanaians.
I also like to believe that institutions are guided by rules and procedures, which are so water tight, that it reduces malfeasance. Apart from the moral integrity of our current President, I am not sure about some of the others that I have enumerated. When stories of corruption and misbehaviour of unimaginable magnitude breaks out, Ghanaians express moral outrage, and expect some recompense. What do they get? More of the same.
Just imagine the pictures of Ghanaian children sitting on blocks in the sun or rain trying to gain some education, something which is their birth right (I am one of those who still believe that Education is a Right and not a Privilege). Imagine the plight of the citizens of Mensah Guinea and similar areas. Imagine the numerous Ghanaians dying of cholera, of the women who are likely to die this month because there are no hospitals with maternal facilities in their areas or these beingtoo far away from their homes.
Now sit back and listen to stories being told at the Presidential Commission probing the Black Stars, of monies paid without receipts, of officialstaking so much money as per diems, airlifting cooks to Brazil, paying commissions to anyone who asks for it, and so on. Stories of footballers, the nations' pride sitting in economy class while officials sit in first class, the story goes on.
When you think you have heard it all, comes the story that the Chief Executive of CHRAJ, the institution immortalised by Emile Short, living in a hotel at 450 USD per day at the tax payers' expense. This institution is supposed to help address issues of injustice. For once, we are tempted to forget about the judgement debt saga.
Another foray into the Daily Graphic brings you harrowing stories of how kayayees live and work in the city. No one complains when they pick up our bags full of goods and suffer under the weight of a sagging bag full of yams or plantain. This affirms our acceptance of the practices where children are victims of child labour, sexual enslavement and some worse abuses. We are then confronted with harrowing tales of cholera traversing the slums and towns of our country, taking along with it live of small vibrant children, and yet, the solution to cholera deaths stares us in the face. As for the EVD, I do not even know what to think of it. If we cannot stem the flow of cholera, how are we supposed to face the worst of Ebola?
It seems we have crossed the threshold of moral decency on a dangerous slope towards self-destruction and 'moral turpitude' (if I may borrow from the late General Kutu Acheampong). Those in whom we put our trust as citizens have abandoned us to the wolves of private aggrandisement and to abuse by both Ghanaian and foreign compradors. Listen to Ghanaian workers at Golden Tulip. As a nation, we seem to have succumbed to the basest of human behaviour in which the dog eat dogs system thrives. There seems to be no consequences for bad behaviour by public servants. By their behaviour, they have also let the President down.
The evidence for this is overwhelming: in a society where journalists are punched and beaten in broad daylight and where discussions on television and FM radio stations are conducted in violent abusive tones. In Ghana, the sight of young children selling along the road where our politicians pass daily, where children who should be in school are begging by the road side, and where street families abound at night. Do we need to look further for any evidence of the failure of the system?Of a political system that has failed to protect the weak and vulnerable? Do we need further evidence of a country on the road to disaster and ruin?
I posed this question in an earlier article – how did a nation with so much promise end up like this?Fidel Castro once described Cuba before the 1960 revolution as rich country with poor people. Sometimes, I have been accused of romanticising about the past. Now I agree with my accusers. So I will stop living in Ghana's past glory. I despair when the solutions to our problems are seen through the advice of flight by night foreigners with IF tags. I despair when the solutions to our problems come through the same institutions and individuals who caused the problems in the first place. I do not see how the International Monetary Fund, with all its one size fits all approach to economic problems in Africa can help Ghana out of its cyclical economic problems. Dalliance with the IMF is like dancing to the rhythms of death.Ghanaian governments need to review their accommodationists policy towards the IMF and anything foreign (including coaches for our national team) and rely on this nation and its vast resources.
In spite of this, I will continue to extol the pan African commitment and achievements of OsagyefoDr. Kwame Nkrumah, whose 105th Birthday we celebrate this month. I need to maintain some faith in the ability of Ghanaians to rise above our current problems. I want to live in a country where children are treated like human beings, where no pregnant woman dies during childbirth and when the rule of law prevails. I believe this world is possible.
Writing about the current crisis in Nigeria, Professor Wole Soyinka said: "as we twiddle our thumbs, wondering when and how this nightmare will end, and time rapidly runs out, I have only one admonition for the man to whom so much has been given … 'Bring Back our Dignity'".
I would say to my President: Restore our Dignity.