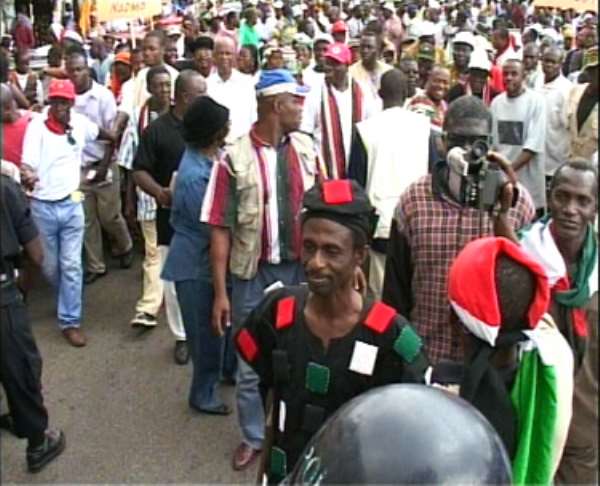 MEMBER OF Parliament for Wenchi West, Hon. Asiedu Nketiah, who also answers to "General Mosquito," has condemned alleged institution of corruption by the leadership of the ruling New Patriotic Party (NPP).
He said the assumption of office of the NPP is synonymous with the sowing of seeds of corruption in the Ghanaian society.
According to him, some ministerial appointments by President Kufuor are clear indications that he was not ready to fight corruption and that seeming efforts in this direction are farce.
Asiedu Nketiah, also the Shadow Minister for Food And Agriculture, who was speaking at the induction of newly elected executives of the Tertiary Education Institutions Network (TEIN) of the NDC in Kumasi over the weekend, gave hints of attempts by the government to institutionalize corruption by weakening the very institutions charged with the responsibility to fight the menace.
He explained that state institutions like the Police, CHRAJ, Serious Fraud Office (SFO) and a section of the Press had been influenced to overlook some of the corrupt practices by functionaries of the government.
The Wenchi West MP also pointed to the Auditor General as one such people being used by the government to weaken state investigative machinery capable of fighting corruption.
"In spite of the constitutional demand that the Auditor General does not take instructions from any body in the discharge of his duties, evidence abound that he had taken instructions from the Presidency to cover up certain people and fabricated allegations against others. That is why the fight against corruption cannot work," he said.
Turning to government appointees, 'General Mosquito' cited cases of Hon. Bamba and Jake Obetsebi-Lamptey, who were appointed to ministerial positions without certificates.
He also wondered why the MP for Asunafo South, Mr. Osei Kufuor, who was dismissed from the Mim Timber Company for allegedly stealing and the Ashanti Regional Police Commander, ACP Ofosu Mensah Gyeabour, who was implicated in a cattle stealing case at Wenchi, could be tolerated in the NPP, which claims to be championing a zero tolerance for corruption policy. "How can a thief arrest an armed robber?" He questioned.
Asiedu Nketiah observed that at best what President Kufuor has so far done is a 100% tolerance for corruption in the face of his appointments and omissions and commissions.
He recommended that the President give a true meaning to his adopted slogan – Zero tolerance for corruption - by responding positively and investigating all media expose of corrupt cases by his men for prosecution.
He said Ghanaians could forgive the President if he would openly admit that he did not understand the slogan at the time he adopted it, else he cannot avoid being blamed for the consequences on the ordinary Ghanaian.