Okyenhene Leads Protest Over Bad Roads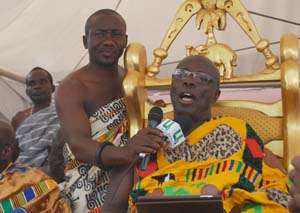 Osagyefo Amoatia Ofori Panin
Come Monday, July 21, 2014, the Okyenhene and President of the Eastern Regional House of Chiefs, Osagyefuo Amoatia Ofori Panin, would lead a retinue of chiefs and Members of Parliament to inspect roads in the region, most of which are in very deplorable state.
A statement from his office said, 'The tour is to afford traditional leaders first-hand interaction with communities and community leaders on social and developmental challenges particularly, to assess the condition of road networks and the deplorable social and economic infrastructure in the Eastern Region.'
The roads are so bad that during a recent working visit to the region, President John Mahama had to abandon the use of his fleet of vehicles and rather chose to fly in a chopper (helicopter) throughout his visit.
The chiefs complained to the President about the bad roads, and he reportedly told them that the Eastern Region roads are not exceptional and that the people of the Upper East Region also had similar concerns.
It was during the said visit that he described Kyebi, home of the Okyenhene's place, as the 'headquarters of 'galamsey' in the country,' provoking a swift rebuttal from some sub-chiefs in the region who expressed disappointment in the President's comment. 'Galamsey' in the local parlance, means illegal mining.
The one-day tour is expected to be rounded up with a public and press engagement at the Suhum roundabout at 11:00 am where the Okyenhene would address the gathering on developmental challenges in the region as well as expectations. A petition is expected to be presented to the President for a collaborative effort with traditional authorities to redress the burning issues.
The late Chief of Asamankese, Osabarima Kwaku Amoah II, was one of several chiefs who had cause to complain on several occasions about the deplorable state of the roads in the region especially, the snake-driving fashion of the Suhum-Asamankese road which residents had described as 'Azonto dance'.
Another dreadful road which has virtually been abandoned by the government is the portion between Suhum and Apedwa on the Accra-Kumasi highway. This has caused the government to come under public scorn and criticisms.
The concerns and complaints of motorists who ply that major road – linking the capital city and other regions as well as neighbouring countries – has also fallen on death ears.
 By Charles Takyi-Boadu