Adjaho alleges gov't acted in bad faith on World Cup inquiry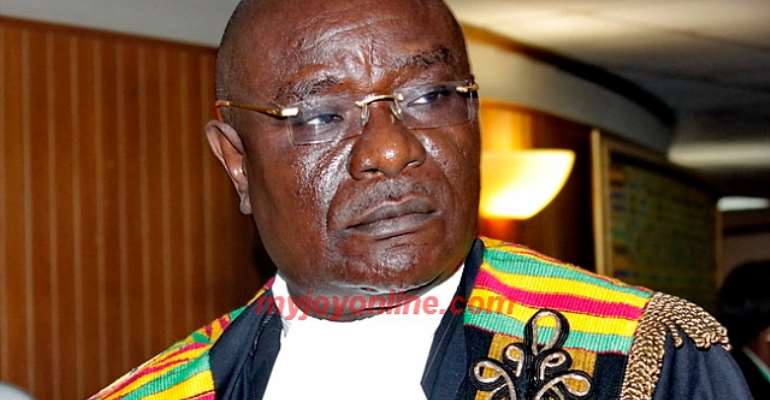 The Speaker of Parliament Edward Doe Adjaho is alleging the executive arm of government bad faith in the establishment of a Commission to inquire into Ghana's shambolic performance at the 2014 World Cup.
The Speaker made the comment on the floor shortly after the Ranking Member on the Youth and Sports Committee Isaac Asiamah, moved a motion for the House to set up a bipartisan committee to investigate the scandals that attended Ghana's participation in the just ended World Cup in Brazil.
Youth and Sports Minister Mahama Ayariga argued against the proposal for Parliament to set up a committee to investigate the scandals.
He informed the House about the elevation of a three member committee tasked to investigate happenings in the World Cup into a presidential Commission of Enquiry.
Ayariga last week announced the formation of a three-man committee headed by Appeals Court judge Justice Senyo Dzamefe to look into Ghana's World Cup fiasco but per a Constitutional Instrument (CI 82) which was gazetted on Friday, July 11, 2014, the committee has now been converted into a Presidential Commission with the powers of a High Court.
Mahama Ayariga also quoted Article 278 of the 1992 constitution which empowers the President to appoint a commission of enquiry to investigate any matter he (President) deems necessary and suggested any attempt by Parliament to appoint a parallel investigative body will be counter-productive.
He would rather Parliament passes a resolution after the Presidential Commission has sat and issued its report.
But the Speaker of Parliament expressed disappointment at the turn of events.
According to him, he was informed about the CI 82 only while on his way to work Monday morning, an act of "bad faith" by the executive.
Joy News' Parliamentary correspondent Elton John Brobbey reported the Speaker as saying, Parliament is an independent body and must be allowed to function as such.
The Speaker indicated that the action by the executive was a subtle attempt to disable Parliament from doing its work as expected.
He therefore allowed the Ranking Member Isaac Asiamah to move a motion, asking for a bipartisan Parliamentary enquiry into the Black Stars' World Cup scandal.
The motion is being considered by the Parliamentarians and a resolution will soon be passed as to whether or not Parliament will go ahead with its Committee or allow the Presidential Commission to investigate the matter.