Prophet Nkansah's motion for Bail thrown out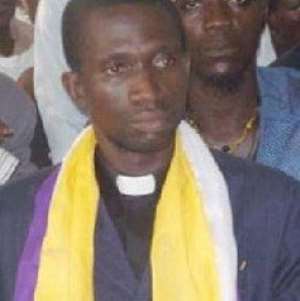 Prophet Daniel Yaw Nkansah
Accra July 3, GNA - An Accra High Court on Thursday threw out a motion for bail pending appeal filed by Prophet Daniel Nkansah, a 2008 Presidential hopeful and founder of the New Vision Pentecostal Church.
Prophet Nkansah had filed a motion on notice for stay of execution of his six- month jail term pending an appeal.
Prophet Nkansah on June 9 was sentenced to the six month jail term by the High Court following a contempt charge.
At Thursday's sitting, the court took a serious view of his recalcitrant behaviour before the court pointing out that the court was not inclined to grant him bail although bail was discretional.
In his motion, Prophet Nkansah contended that the judgment obtained in land litigation was fraudulent and that his incarceration was based on the emotions of the trial judge.
The Court, presided over by Mr Justice Peter Dei-Offei, had found him guilty of disobeying the court's order with no option of a fine.
This followed many adjournments at the instance of Prophet Nkansah in a land matter before the court.
Prophet Nkansah was tried for preventing the applicant, one Madam Sikiratu Obe, from enforcing the substantive judgment she had won against him.
The conviction was based on the fact that bailiffs had executed the judgement in favour of the applicant by locking up shops wrongfully erected on her land at Bubuashie, a suburb of Accra.      
Prophet Nkansah however organised his boys to forcefully open the shops and he replaced them with new locks thereby preventing Madam Obe from repossessing her property.
Convicting him, the court said it had noted Prophet Nkansah's arrogance and lack of remorse for his conduct.
The trial judge, however, said he had considered the passionate plea for leniency by his counsel to tamper justice with mercy and accordingly handed him the six-month jail term.
The Presidential hopeful is also standing trial at the Accra Circuit Court on alleged charges of conspiracy and robbery.
Prophet Nkansah is facing six counts of conspiracy to rob and robbery with his son, Daniel Boahene Nkansah Jnr, and eight others, two of whom are currently at large.
They are said to have robbed one Stephen Ped Andam, a tenant in Prophet Nkansah's store at Atico Junction in Accra on February 1, of his Samsung iPhone,   a laptop with charger, cheque books, international driver's license, certificates, an iPad and GH¢ 55,000.
Prophet Nkansah, in agreement with his son and the 10 others, are also alleged to have made away with a Blackberry mobile phone and GH¢ 500 belonging to one Geshon Essel, while another person, Billy Apeku Ken, also claimed his Samsung mobile phone, a laptop and GH¢ 750 were missing.
The fourth complainant, Isaac Tetteh Korgbey, has also accused Nkansah and the 10 others of the disappearance of his laptop and Sony video camera.
One Emmanuel Nana Kwaku Badu has also complained of his missing wallet containing GH¢ 1,000 and I.D. cards.
GNA EN-GB X-NONE X-NONE