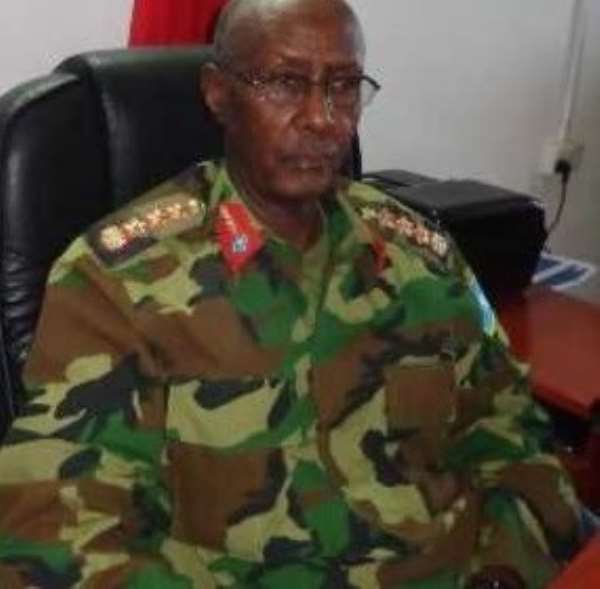 Somali Army Chief, General Dahir Adan Elmi
MOGADISHU, Somalia (ModernGhana) - Somali military chief of staff General Dahir Aden Elmi (Indhaqarsho) has narrowly escaped a landmine blast which targeted his convoy while heading his office at Defense Ministry HQ in Mogadishu early Wednesday morning.
According to Eyewitnesses, General Elmi's convoy was travelling along the high industrial road north west of the capital, when the mine went off wounding several soldiers.
Sources said that General Elmi who was travelling on his bullet-proof land cruiser escaped unhurt, but two cars of his convoy were damaged.
Somalia's Al Qaeda-linked militant group Al shabab claimed responsibility for the attack, and vowed more attacks against Somali government officials and AU troops in the country.
Wednesday's assassination attempt comes several days after Al Shabab fighters attacked Somali parliament building in the centre of the capital Mogadishu and fought with government forces for nearly 5 hours.
At least 18 people were killed and scores injured in Saturday's Al shabab raid on Somali parliament complex in Mogadishu, which was the latest in a string of attacks in the capital of the horn of African war-torn Country.
Contact The Reporter:

Omar Nor in Mogadishu at
[email protected]