May 21, 2014
|
Politics Politics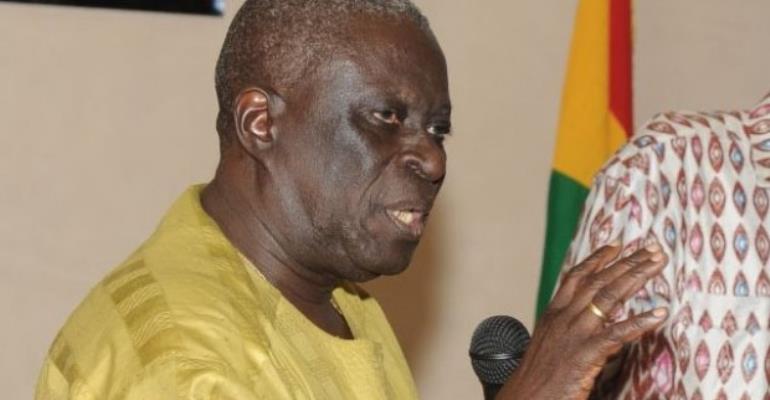 DEAD! Paul Victor Obeng addressing a session at the Senchi Forum last Thursday before his shocking death on Saturday
DAILY GUIDE investigations have revealed that Paul Victor Obeng, Chairman of the National Development Planning Commission (NDPC) who died on Saturday afternoon while driving off the Spintex Road near Tema was returning from his site in Accra.
A close family source said the late Senior Presidential Advisor was pronounced dead at the LEKMA Hospital in Teshie, Accra, after he reportedly collapsed at the Agapet Filling Station on the Spintex Road where a cabbie spotted him struggling behind the steering wheel.
The 69-year-old PV Obeng, as he was affectionately called, was first rushed to the Inkoom Hospital off the Spintex Road by the taxi driver, who was yet to be named, where he was referred to the Ledzokuku-Krowor Municipal Assembly (LEKMA) Hospital at Teshie at about 2:15pm, May 17, 2014, in a taxi.
Medics at the LEKMA health facility tried tirelessly to revive him from his collapsed state, but all their attempts proved futile, the source said.
A search was conducted on him, which revealed his cell phone, leading to contact with his family, who were informed about the state of the politician.
The family rushed to the health facility after government officials had been contacted and two ambulances were dispatched to convey him to the 37 Military Hospital in Accra.
Although the family was yet to come out with the cause of his death, the source confirmed that his inhaler (asthma pump) was found on the seat of his car at the filling station, deepening suspicion that he might have had an asthma attack, while others suspected cardiac arrest.
PV Obeng was crucial in the organisation of and described as the brain behind the just-ended National Economic Forum at Akosombo last week.
According to the source, even though the forum ended on Thursday evening, Mr Obeng was said to have returned late Friday, only to leave for another meeting in Accra Saturday morning.
He was said to have met some relatives at his residence Saturday morning to discuss family and funeral issues, only for the unfortunate news of his demise to hit his relatives and the entire nation later in the day.
He was a Mechanical Engineer, politician and chairman of the Kwame Nkrumah University of Science and Technology (KNUST) council, the university where he graduated from after his secondary education at the Opoku Ware Senior High School in Kumasi.
Mr. Obeng, an accomplished politician with long years of service, who left behind four children and a wife, was appointed in 2010, under President John Atta Mills' administration as chairman of the National Development Planning Commission (NDPC).
He served as the chairman of the Committee of Secretaries under the Provisional National Defence Council regime (PNDC) from 1982 to 1992 and was referred to at that time as the de facto Prime Minister.
He also served as Presidential Advisor on Governmental Affairs under the National Democratic Congress (NDC) from 1992 to 1997, before he allegedly fell out with President Jerry John Rawlings.
 From Vincent Kubi, Tema