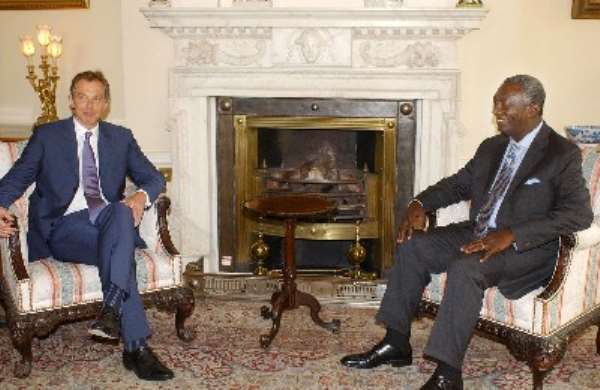 Accra, April 29, GNA- President J.A. Kufuor has reaffirmed government's commitment to the running of free and fair Presidential and Parliamentary elections in December, this year.
He has resolved to ensure level playing field before, during and after the elections whilst supporting the independent Electoral Commission (EC) to achieve its objectives.
President Kufuor told British Prime Minister Tony Blair in a high level diplomatic engagement which reviewed wide range of issues of interest to both countries, that the "government's responsibility in the conduct of smooth elections will be discharged fully and firmly".
A statement from the office of the Press Secretary in Accra on Thursday said, "The Presidential declaration strengthens earlier pledges made by him in his New Year massage, the State of the Nation's Address to Parliament and Independence Day message.
"President Kufuor is said to view his pledge to an incident free elections as his commitment for the efforts to strengthen democracy and establish Ghana as a true bastion of democracy and beacon of hope on the continent. At the same talks with Prime Minister Blair, the Ghana President was confident that the government will stay on track in building on the existing socio-economic platform to develop a stable and diversified economy capable of sustaining high levels of growth".
The statement said, "the two leaders were hopeful that President Kufuor's vision for Ghana's improved fortunes would be supported by increased levels of bilateral trade and British investment in Ghana".
It would be recalled that President Kufuor in his previous submissions on the December 2004 elections, gave a personal pledge to extend honour and dignity to all political opponents.
"He asked that the election should be fought vigorously but without rancour and baseless mudslinging, adding, that a sense of decency and maturity must characterise all political activities", the statement said.