Man jailed 60 years for stealing phones, money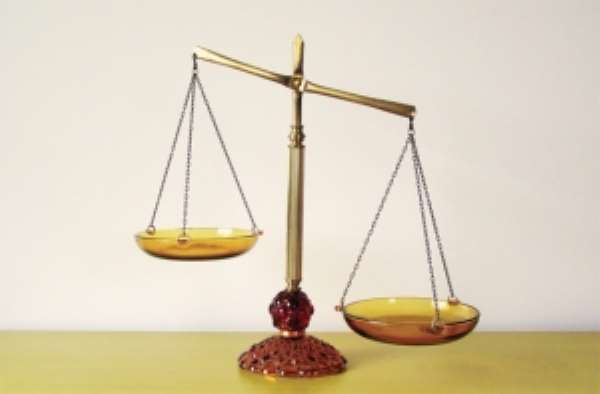 The Kumasi Circuit Court Monday sentenced a teenager to 60 years in hard labour for robbing a woman of two mobile phones and GH¢120.
Charles Frimpong, 19, unemployed, threatened to kill his victim, Patricia Gyamfi, if she refused to allow him to have sex with her after robbing her.
He led the victim to her bedroom and asked her to undress for him to have sex with her after taking her phones and the money.
Patricia, however, refused to comply and told the convict that he would only do that over her dead body.
The victim was saved by a knock on her door that made the convict to rush out to lock the door, thus giving the victim the opportunity to lock herself in the bedroom and shout for help.
Frimpong pleaded guilty to the count of robbery, and the court, presided over by Mr William Boampong, convicted Frimpong on his own plea and sentenced him to 60 years in hard labour.
Briefing the court, Inspector Gulliver Kwabena Tenkorang said about 7 p.m. on April 21, this year, Patricia, a housewife and a resident of Kenyase, near Kwabre in the Ashanti Region, sent some children in the area to buy food for her and her dog.
He said while in her room,  she heard the dog barking and when she came out to see what was happening the convict pointed a pistol at her and marched her to her bedroom.
According to Inspector Tenkorang, Frimpong then requested the victim to surrender her phones and money and she complied.
After taking the money and the phones — Samsung G8 and Nokia phones — he told the victim to lie on the bed for him to have sex with her which she refused.
He said while at it, the victim took a closer look at the convict and when there was a bang on the door, Frimpong rushed out of the bedroom to lock the main gate, thus giving Patricia the chance to lock the bedroom door and shout for help.
This compelled Frimpong to take to his heels. The victim went to the Kenyase Police Station to lodge a complaint.
Mr Tenkorang said two days after the incident, while the victim was returning from town on a passenger vehicle, she saw the convict walking with his friends and asked the driver to stop.
He said when she realised that he was the one who robbed her, she went to the police station to inform them. The police accompanied the victim to the convict's house and he was arrested.
When the suspect's room was searched, the shirt and sneakers he wore during the robbery were found.