Kosmos Corporate Affairs team visits Graphic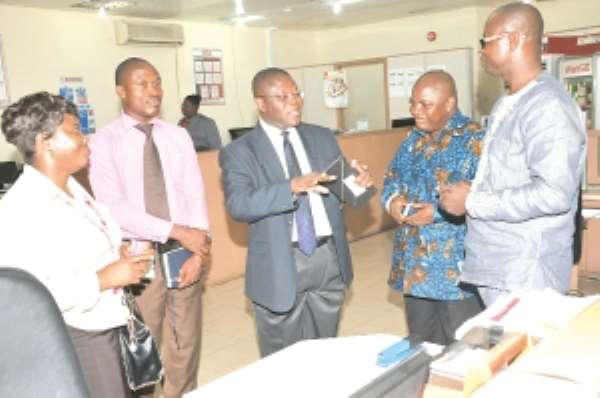 The Director, Corporate Affairs of Kosmos Energy, Mr George Sarpong, last Tuesday paid a courtesy call on the Editor of the Daily Graphic, Mr Ransford Tetteh, to acquaint himself with the production processes in the newsroom.
He was accompanied by Ms Ruth Adashie, the Communications Manager, and Mr Stanley Amamoo, the Corporate Social Responsibility (CSR) Co-ordinator of Kosmos Energy.
The Deputy News Editor of the Daily Graphic, Mr Albert Salia, briefed the delegation on work in the newsroom and the news production chain.
Earlier, Mr Sarpong had told the editor that the Kosmos team was at the Daily Graphic to strengthen collaboration in the area of information dissemination on Ghana's oil find.
He said since it was a new industry in the country,  there was the need for its players like the Jubilee Partners and the media to work together to disseminate the right information about the industry for the understanding of the ordinary Ghanaian.
Mr Sarpong explained that Kosmos would not stand in the way of the media to publish issues about the industry but appealed to journalists to always be guided by the facts about the industry.
Mr Tetteh  assured him that the papers in the Graphic Communications Group Limited (GCGL) stable would devote spaces for issues on Ghana's oil industry.
He, however, asked the Jubilee Partners to step up their education on how beneficial the industry had been to Ghanaians since the first oil flow in 2010.