Ibrahim Mahama's private jet did not carry gov't officials to Iran - Kwakye-Ofosu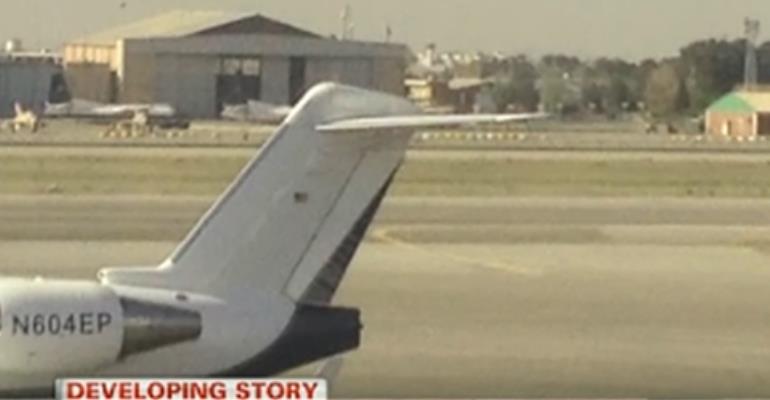 Government has vehemently denied reports that the private jet owned by Ibrahim Mahama which was spotted in Iran was on an official government business.
Reports were rife that the private jet, the American Bombadier CL 600 aircraft was leased to the Ghana government and actually carried senior government officials to follow up on a business transaction brokered with the Iranian government a couple of months ago.
The Iranian news agency reported the Foreign Ministry spokeswoman Marzieh Afkham as saying that the plane was "on lease to Ghana's presidential office, and its passengers were Ghanaian senior officials led by the president's brother," Ibrahim Mahama.
With the strained relationship between the Iranian government and their American counterpart, there was always going to be controversy when an American jet lands in Iran.
But some Ghanaians are more concerned about the purported transaction between the government of Ghana and Engineers and Planners which made it possible for a jet owned by the president's brother to be used to carry government officials as reported by Iranian News Agency.
The report has since created a lot of furore with anti-corruption group Ghana Integrity Initiative raising eye brows.
The Executive Secretary of the Ghana Integrity Initiative, Vitus Azeem, told Joy News government must explain the circumstances under which the President's brother won the bid to carry a government delegation on his private jet.
He said the deal raises lots of conflict of interest situations and called on government to explain the details of the deal.
But government has dismissed the report.
Deputy Information Minister, Felix Kwakye-Ofosu told Joy News' Jefferson Sackey the plane was not on an official trip.
He explained the plane carried private business men who on their own went to transact their own business in Iran, adding, Ibrahim Mahama is not a member of government and could not possibly have led members of government to Iran.
He said the explanation by Engineers and Planners, the company owned by Ibrahim Mahama, that the plane was on a private business transaction is the fact of the case.
He said the Iranian Foreign Ministry can neither purport to speak for the government of Ghana, nor for the company which owns the aircraft.