Was Iran Proposal To Ghana Mining Cooperation, A Camouflage To Trade In Gold?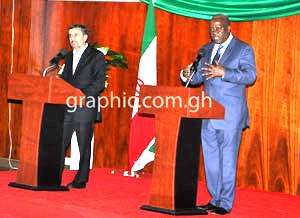 Iran's Minister of Trade, Industry and Mine, Mohammad Reza Nematzadeh has voiced the readiness of the Islamic Republic to share its experience in mineral exploration with Ghana.
Nematzadeh said in a meeting with the visiting Ghanaian Speaker of Parliament Edward Doe Adjaho in Tehran in October 2013, "Iran has wide experience in mining exploration, which is ready to share it with a friend country, Ghana."
The Iranian official added, "Ghana is rich in gold, bauxite and manganese mines and Iran is ready to dispatch expert groups to that country to determine methods of cooperation in the aforementioned fields."
Nematzadeh added that the US-led sanctions slapped on Iran have failed to halt the Islamic Republic's economic cooperation with other countries.
Doe Adjaho promised Iran's Minister of Trade, Industry and Mine Mohammad Reza Nematzadeh, the necessary measures would be undertaken for the establishment of a joint business between Iran and Ghana.
Doe Adjaho was quick to pull Ghana in the dirt by saying "my country (Ghana) recognises Iran's right to use nuclear technology."
According to Doe Adjaho, Ghana's mining industry accounts for 5% of its gross domestic product (GDP). The African country's minerals make up 37% of its total exports. A total of 23 large-scale mining companies are producing gold, diamonds, bauxite and manganese in Ghana.
Was Edward Doe Adjaho's Meeting with Iran's Minister of Trade, which was supposed to be a cooperation in mining between the two countries just to Camouflage the Ghanaian People to rather do Gold Business with Iran?
We are all Aware of the fact that 1.5 tons of Gold, worth 80 Million Dollars intended for Iran from Ghana were seized aboard a Dubai-bound plane at Istanbul's Airport. The A300 owned by the Turkish ULS Cargo firm was detained due to some missing Documents.
As I write, Ghanaians for a Better Government had insisted in a press statement that the U.S.- flagged plane that landed in Tehran-Iran and was traced to E&P (Ibrahim Mahama's Company), ferried top government officials to Iran, and not a business Delegation.
FRANCIS TAWIAH (Duisburg - Germany)