'Insecurity' prevents UN, EU mission to Darfur camp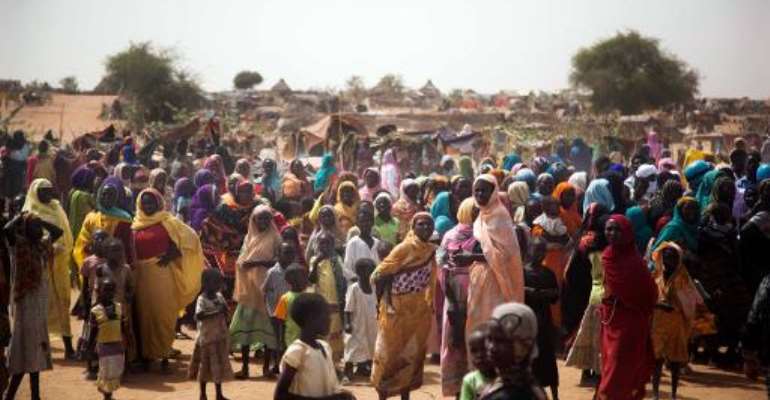 Khartoum (AFP) - Instability in Sudan's Darfur region has prevented top UN officers and European ambassadors from visiting a camp where thousands have fled the worst fighting in a decade, officials said Thursday.
The delegation led by European Union ambassador Tomas Ulicny and Ali Al-Za'tari, the chief United Nations official in Sudan, travelled to North Darfur on Wednesday to assess the situation on the ground and meet local authorities.
They had hoped to visit Zam Zam camp, where more than 8,000 people have sought refuge from violence which has surged across the region since late February.
"The state authorities strongly advised not to visit Zam Zam camp" because of security reasons, Ulicny told AFP.
Damian Rance, of the UN's Office for the Coordination of Humanitarian Affairs (OCHA), said the delegation was told "for security reasons they couldn't go to Zam Zam".
Sudanese authorities have regularly cited security factors in denying aid workers access to parts of Darfur and other conflict zones in the country.
Authorities say access restrictions are necessary to ensure the safety of the humanitarians.
Zam Zam camp, about 12 kilometres (seven miles) southwest of El Fasher, is Darfur's largest. Even before the latest influx, it already hosted more than 100,000 of the two million people uprooted by 11 years of war in Darfur.
An AFP reporter who visited Zam Zam last weekend found the new arrivals sheltering from the desert sun under trees, in the remains of abandoned houses, or under simple huts from bits of cloth and wood.
They said they were calling for food, shelter and other aid after fleeing attacks on their villages.
The African Union-UN peacekeeping mission in Darfur (UNAMID) said Thursday it had received reports of a fresh attack this week, west of El Fasher.
Local sources told peacekeepers that on Monday armed men burned 72 homes and four water pumps at Kobe Assara village.
This caused civilians to flee towards El Fasher and elsewhere, the sources told UNAMID.
It was unclear in this case who carried out the attack.
- Villages burnt -
But UNAMID chief Mohamed Ibn Chambas told the UN Security Council last week that activities of the Rapid Support Forces (RSF) counter-insurgency unit were of "particular concern".
"They have perpetrated attacks on communities," he said.
Ulicny told AFP that "we should be concerned" about the role of the RSF.
During the delegation's visit, the RSF "was broadly discussed with the government, who believe that they are part of the regular Sudanese army and are not behind the attacks against the population," he told AFP.
On Monday UNAMID said more than 2,000 civilians had reached a peacekeeping base at Mellit, north of El Fasher, saying their villages had been attacked by suspected RSF and militias.
"They reported that the attackers killed an unspecified number of people, stole livestock and burnt their homes," said UNAMID.
"The displaced people also reported that on their way to Mellit, they saw other villages, including Hadi, Sani Haya and Wadibour, already burnt."
Rebel offensives, criminal activity and inter-communal fighting over access to resources have also contributed to this year's "alarming escalation of violence" in Darfur, Chambas told the Security Council.
Since late February more than 270,000 people in Darfur have been displaced, says OCHA.
Despite significant access constraints earlier, aid groups have now been able to provide some form of help to more than 200,000 of those affected, it says.
Europe will continue calling for stability and for "unhindered" humanitarian assistance to the people in need, Ulicny said.
Sudan's President Omar al-Bashir and Defence Minister Abdelrahim Mohammed Hussein are wanted by the International Criminal Court for alleged war crimes in Darfur.